Teenage driver Sophia Floersch undergoes spinal surgery after horror crash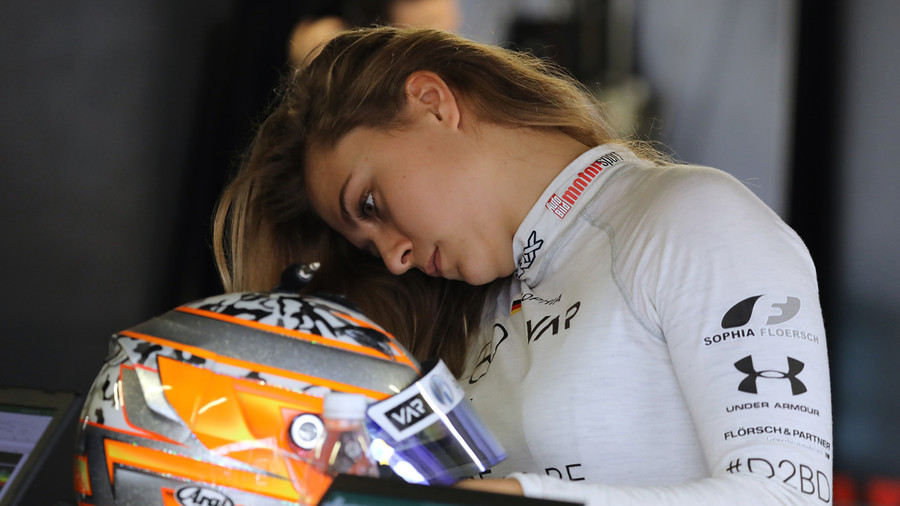 F3 racer Sophia Floersch, 17, suffered an horrific high-speed crash at the Macau Grand Prix on Sunday in which she and four others were injured.
The German racer underwent the hours-long surgery to repair the fractured spine she suffered in the incident, in which she collided with another car causing her vehicle to go airborne and crash into a paddock reserved for race photographers.
In addition to Floersch, fellow driver Sho Tsuboi, a race marshal and two photographers were also transported to hospital.
"She was admitted for surgery at 10am (0200 GMT) and it is still ongoing," AFP reported based on comments from Macau's health authority.
READ MORE: UFC fighter Rachael Ostovich suffers 'major injuries', hospitalized after Hawaii assault
The marshal suffered a broken jaw, while one other person was understood to have a lacerated liver.
Dramatic footage of the accident was captured on the race broadcast, and has since gone viral around the globe.
In the tape, it appears that Floersch lost control of her car just prior to the Guia Circuit's Lisboa bend, a sharp right-turn, before colliding with Tsuboi - which then sent her Van Amersfoort car into the air at high speed.
Despite the injury suffered, Floersch was described as being in a stable condition when she arrived at hospital.
The teenager took to Twitter in the aftermath of the incident on Sunday to give an update on her condition.
Just wanted to let everybody know that I am fine but will be going into Surgery tomorow morning. Thanks to the @fia and @hwaag_official@MercedesAMGF1 who are taking great care of me.Thanks to everybody for the Supporting messages.Update soon.

— Sophia Floersch (@SophiaFloersch) November 18, 2018
"Just wanted to let everyone know that I am fine but will be going into surgery tomorrow morning," she wrote.
A further update on Monday afternoon said that the surgery is currently on-going.
Aktuelle Zwischeninfo: Das Ärzte-Team arbeitet bewusst langsam, um Risiken zu vermeiden. Der bisherige OP-Verlauf sei gut und ohne Komplikationen. Die heute morgen begonnene OP dauert an. pic.twitter.com/3gHSCtFe4B

— Sophia Floersch (@SophiaFloersch) November 19, 2018
"Current interim information: The medical team is deliberately working slowly to avoid risks," the statement reads when translated from German to English.
"The previous surgical course is good and without complications. The surgery that began this morning continues."