'Sex is good, but have you seen Lovren constantly lose big games?': Croatian trolled over loss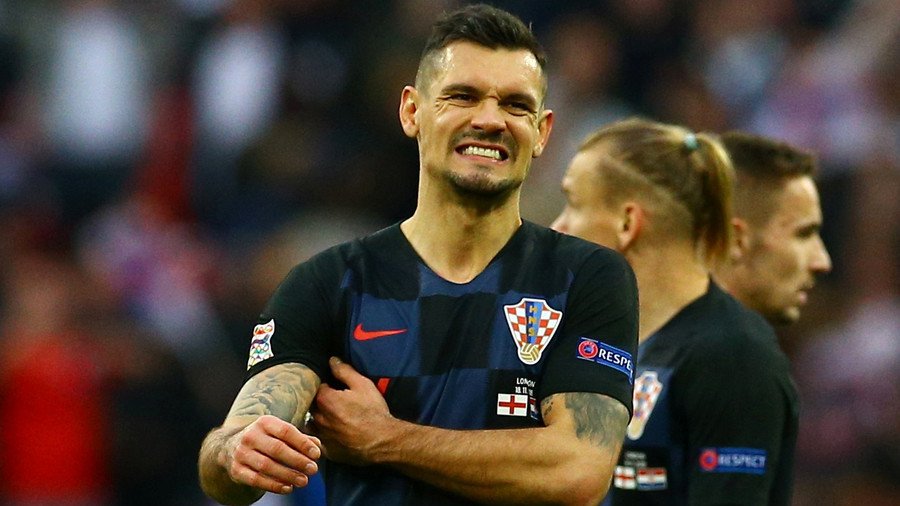 Cocky Croatian defender Dejan Lovren has been mercilessly trolled after his side were dumped out of the UEFA Nations League, with social media users laying into his previous coarse message to Sergio Ramos after defeating Spain.
READ MORE: 'Bunch of p******': Croatian defender Lovren taunts Ramos & Spain after revenge win
Lovren rubbed it in after his country's 3-2 win against Spain in their crunch UEFA Nations League encounter on Thursday, mocking Spanish skipper Sergio Ramos and appearing to brand the opposition "p******" in an Instagram live video.
But, as with most things in life - and certainly most things on Twitter - it came back to bite the Liverpool defender right where it hurts when England beat Croatia 2-1 at Wembley on Sunday, going through to the Nations League finals and dumping Croatia out.
Yeah sex is good but have you watched Dejan Lovren constantly, constantly bottle it and lose big games. It is a beautiful thing.#SaintsFC

— les' Lamborghini (@saintbannerman) November 18, 2018
Life comes at you fast...Lovren on Thursday: "I elbowed him (Sergio Ramos) good. Haha! 3-2! Go ahead and talk now buddy. They are a bunch of p******. Now to beat England and walk out like a boss."Lovren on Sunday: Relegated. pic.twitter.com/O2kwXeJtOk

— Shamoon Hafez (@ShamoonHafez) November 18, 2018
Anyone know what time Dejan Lovren is going live on Instagram?

— 90min (@90min_Football) November 18, 2018
The two sides met in the UEFA Nations League, a repeat of this summer's World Cup 2018 semi-final in Moscow, where Lovren and co. sent the Three Lions home with a 2-1 extra time victory in the tournament semi-finals.
It was a different story at Wembley, where England staged their own comeback win on home soil courtesy of two goals from Jesse Lingard and skipper Harry Kane to cancel out a Andrej Kramaric opener and progress to next summer's finals in Portugal as Group 4 winners and relegate Croatia.
READ MORE: 'She knows about torture...perfect for Browns!': Twitter meltdown as Cleveland want Condi as coach
Lovren was deemed by some to be at fault for both goals, cue the ever-present Twitterati who piled in on the 29-year-old's misfortune. which would have been music to Sergio Ramos' ears, depsite the fact his Spain side failed to qualify from the same group.
Lovren really just got his country relegated from the nations league. I'm not saying karma is real, but I'm not denying it's existence either.

— Xav Salazar (@XavsFutbol) November 18, 2018
Dejan Lovren in July: "I think people should recognise that I am one of the best defenders in the world."Since then:Lost in the World Cup finalLost place in the first team to Joe GomezRelegated from the UEFA Nations League pic.twitter.com/PGYrkQQLlq

— bet365 (@bet365) November 18, 2018
Lovren on Thursday: "I elbowed him (Ramos) good. Haha! 3-2! Go ahead and talk now buddy. They are a bunch of p******. Now to beat England and walk out like a boss."Dejan Lovren has just been relegated. You couldn't write this script. 😂😂😂 pic.twitter.com/pnPGwWwktO

— United Xtra (@utdxtra) November 18, 2018
You can share this story on social media: