Best of enemies: PSG teammates Neymar and Cavani clash during Brazil v Uruguay 'friendly'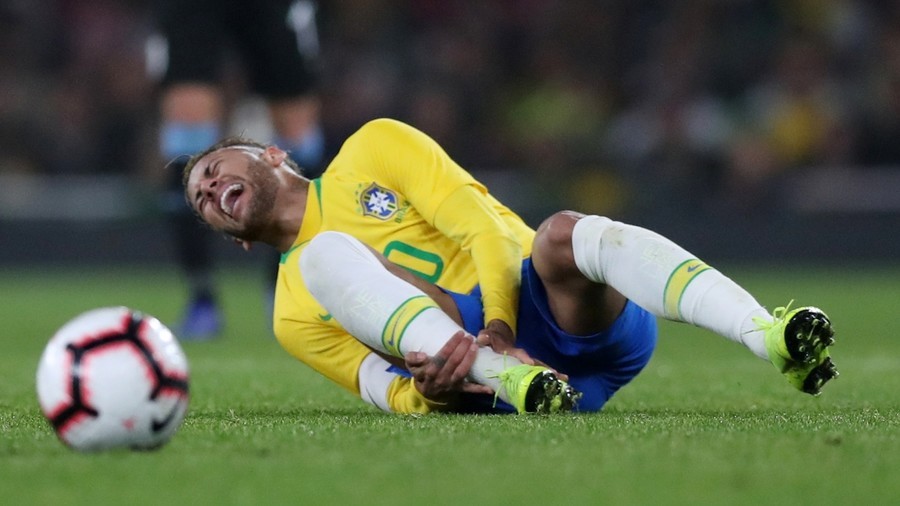 Paris Saint-Germain teammates Neymar and Edinson Cavani were involved in an angry clash during Friday night's match between Brazil and Uruguay in London.
The two nations met at Arsenal's Emirates Stadium for a friendly, but the simmering bad blood between the two came to a head when Cavani brought down Neymar on the touchline with a strong challenge.
READ MORE: Clap happy: Neymar reportedly receives €375,000 'ethical bonus' payout to applaud PSG fans
Neymar, perhaps unsurprisingly, made the most of the collision, rolling around on the floor as the referee issued a shocked Cavani with a yellow card.
And when the Uruguayan hitman offered a hand to help his PSG teammate to his feet, Neymar appeared to dismiss him.
The duo exchanged words before play got back underway. But the incident highlighted tensions between the pair that go back to last year, when the duo clashed over who should take penalties for their club.
They infamously clashed over a penalty in a match against Lyon last season, when the Brazilian intervened and attempted to take the ball off Cavani, who went on to miss his spot-kick.
It reportedly led to a behind-the-scenes row between the pair, with claims that PSG even offered the Uruguayan €1 million (US$1 million) to relinquish spot-kick duties to the Brazilian. Cavani refused and the uneasy relationship between the pair continues to this day.
Ironically, it was Neymar who scored the only goal of Friday's friendly. From the penalty spot.