'Nice tackle': Ronaldo snap struck by naked teammate Chiellini's accidental photobomb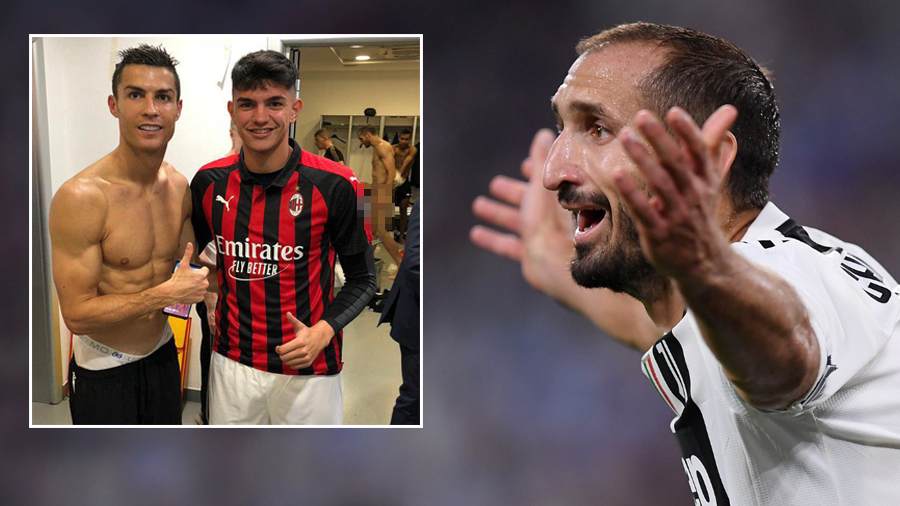 It was supposed to be a photo with Cristiano Ronaldo to take pride of place in young player Raoul Bellanova's scrapbook, but it ended up becoming an unintentionally revealing moment for Italian football legend Giorgio Chiellini.
AC Milan defender Bellanova posed for a post-match photo with Juventus superstar Ronaldo after Juve's 2-0 win at the San Siro on Sunday. Ronaldo was typically topless and grinning as the pair took the picture in the dressing room after the game.
READ MORE: 'Do not f*** with me': Barca stars Suarez & Pique in post-match spat after Real Betis defeat
But it wasn't until it was posted to social media by one of Bellanova's friends that people started to notice something else about the shot. As well as a grinning Ronaldo and a starstruck Bellanova, the picture featured a naked Giorgio Chiellini in the background, with his manhood clearly on display.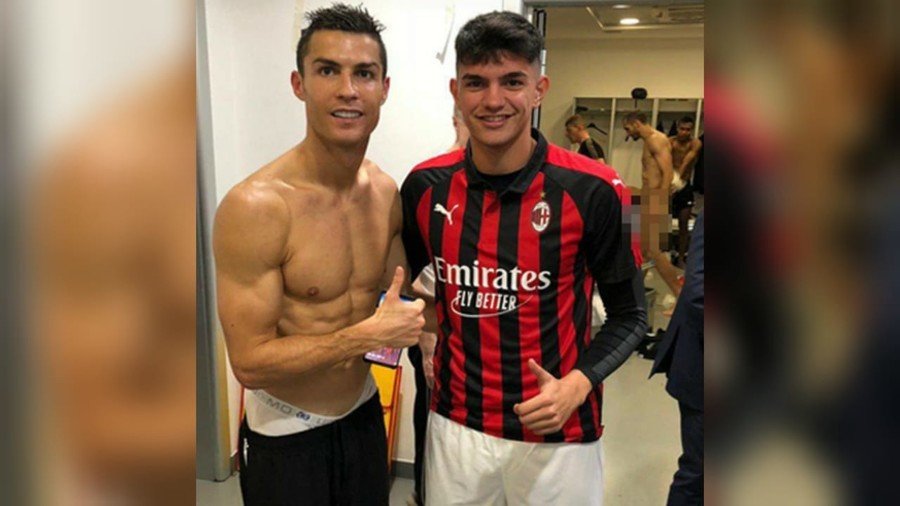 Bellanova, embarrassed by the fact he'd shared a "d*** pic" of one of Italy's most respected internationals, swiftly apologized in an Instagram post.
"I am deeply sorry for what came out on social media at this time," he said in Italian, adding: "I apologize first of all with Giorgio Chiellini, it was not my intention.
"I assure him and all the football fans that I just took a picture with a great champion. I did not post anything on my social media, nothing on my profile nor on my stories, nor would I do it after a defeat, the smile of photo is for making a little dream.
"I made the only mistake, which I regret, that I shared the photo with some friends, who shared it, without having checked it first."
Ronaldo opted not to react to the photo and instead headed for a night on the town in London with girlfriend Georgina Rodriguez. But Chiellini's accidental photobomb has certainly caused some amusement on social media, drawing comments such as "Nice tackle from Chiellini," and "Chiellini is stark naked!"
It remains to be seen if the fans of Juve's next opponents, SPAL, will have any new chants ready for the 34-year-old defender when they meet in Serie A action on Saturday, November 24.
You can share this story on social media: