Sickening attack leaves Irish football referee with broken jaw after amateur game (PHOTO)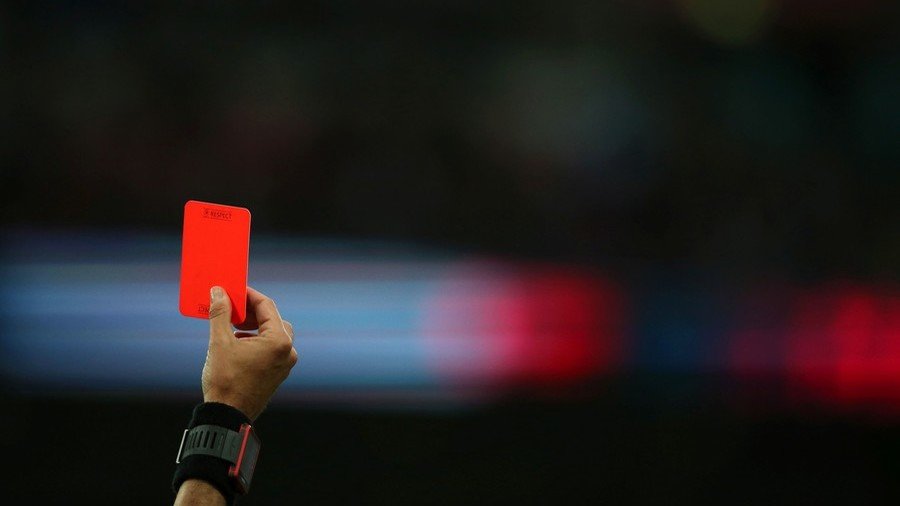 Football referee Daniel Sweeney was left with sickening injuries including a broken jaw and fractured eye socket after he was reportedly attacked by players and a fan after officiating at an amateur game in Ireland.
Sweeney allegedly suffered the injuries in an assault by three players and a supporter from Mullingar Town, after the team's match at Horseleap in the Republic of Ireland's Combined Counties League on Sunday.
Mullingar won the game 3-1, although furious players and fans apparently set on Sweeney in the car park afterwards, the BBC reports. A photo showing Sweeney, a married father of two, in a hospital bed with severe facial injuries was shared by fellow referee Joe Cassidy.
One of our Referees in Midland Branch today after a game was viciously attacked by players this should not be tollarted at all we as Referees doing a job no REF no game pic.twitter.com/YgPpAhSNpD

— Joe Cassidy Athlone (@JoeCassidyIRE) November 11, 2018
The local Gardai police confirmed they were investigating after being called out to reports of a fight involving a referee, but said that no arrests had yet been made.
Paul Malone, the sectary of the referees' Midlands branch, said the shocking images did not reveal the real extent of the injuries inflicted on Sweeney.
"The pictures don't do justice to his face. He is not allowed eat or talk. He can drink through a straw for the time being. In my refereeing career, I have never seen this kind of assault. It's an absolute disgrace and all over a game of football," Malone said, according to the Irish Times.
He added: "He's a nice guy. I was chatting to a few people at the match who said Daniel had done nothing wrong."
Combined Counties League chairman Sean Montgomery said he would seek to ban for life those responsible for the brutal assault.
"I haven't come across anything like this before and the league is taking it very seriously. Daniel is a very good referee," Montgomery told the BBC.
"I'm told it was a good game of football and Mullingar won 3-1, which is the strange thing about it all."
The Irish Soccer Referees Society (ISRS) branded the attack as "appalling."
"We are shocked and appalled in equal measure with the vicious assault on one of our members after this game on Sunday," ISRS president Paul O'Brien said, according to the BBC.
"He's had his jaw broken on both sides, another break higher up and has a broken bone below the eye, plus stitches in his nose.
"We wholeheartedly condemn any violence in our beautiful game. We believe there is no place for violence, intimidation or abuse of any official," O'Brien added.
READ MORE: UFC fighters display brutal facial injuries, mutual respect in hospital bed picture (PHOTO)
He warned that the horrifying hospital pictures could put potential referees off amid a "chronic shortage" of officials.
"There is a chronic shortage of referees in the country. Anyone interested in refereeing would be turned off completely on viewing the image of our assaulted member.
"Without referees there is no game. We, as referees, should be viewed as a resource and in turn we should be given the protection and respect we deserve."
Sweeney was reportedly due to be transferred on Monday from the Midland Regional Hospital in Tullamore to St James's Hospital in Dublin.
You can share this story on social media: