Flat out: Inter star Brozovic makes bizarre block from Suarez free-kick – Messi's amused (VIDEO)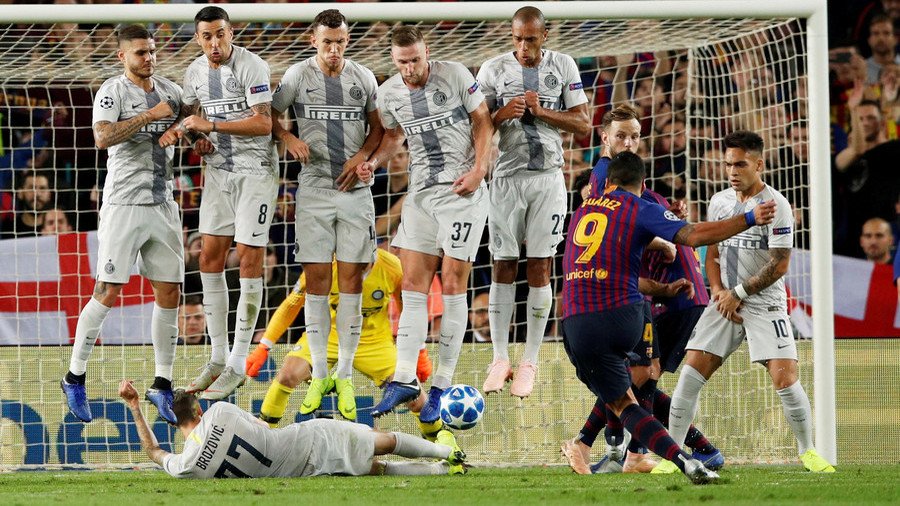 Inter Milan's Marcelo Brozovic found a novel way to block a Luis Suarez free-kick in the Champions League encounter against Barcelona, sliding behind the wall to block the ball – much to the amusement of a watching Lionel Messi.
READ MORE: Football selfie of the year? Security-restrained pitch invader snags snap with Ronaldo! (PHOTOS)
Suarez attempted to sneak the ball under the Inter wall and his plan looked on course when the players jumped in unison, but Croatian international Brozovic was wise to it, sliding down to make an unorthodox block with his back.
The move was met with amusement from Barca skipper Messi, who was seen laughing in the stands as he watched the game with his arm in a sling, having fractured it against Sevilla at the weekend.
Suarez may have been attempting to emulate his skipper, as Messi himself has pulled off several 'under the wall' free-kicks down the years, including against La Liga rivals Alves as recently as August.
Despite being lauded for his inventive block, the under the wall blocking tactic has actually been seen fairly regularly in recent years – including a bizarre effort in a Brazilian game in 2014.
Brozovic 's heroics came with the team 1-0 down at Camp Nou after a Rafinha goal gave Barca the lead, which was doubled when Jordi Alba struck for the hosts late on.
The win put Barca top of Champions League Group B on three wins from three, while Inter sit second on six points from their three games.
You can share this story on social media: