Cold shoulder! Sergio Ramos unleashes attack on youth player after flying shoulder in nose (VIDEO)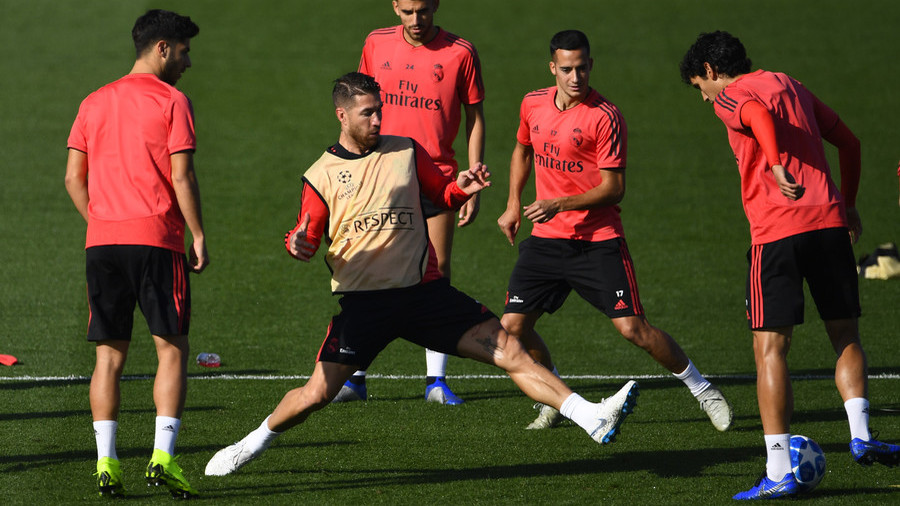 Real Madrid captain Sergio Ramos was again the center of a storm involving a shoulder when Los Blancos academy product Sergio Reguilón crashed his shoulder into the veteran defender's nose during a team handball training session.
Real were preparing for their Champions League Group G against Czech side Viktoria Plzen on Tuesday when a team handball match went awry as soon as Spain's 160-cap skipper caught the ball.
In a last ditch block attempt, Reguilón dived through the air in front of the center back, accidentally catching him on the nose with a stray shoulder, much to the chagrin of Ramos, who appeared to immediately hold his damaged conk.
Then in a flash of anger, Ramos fired a kick at the 21-year-old left back, but the ball went flying high and wide of the young player.
Not content with his outburst, and as the squad were making their way off the pitch, Ramos, holding his nose and wagging his finger at the youngster, again fired the ball at a bemused-looking Reguilón.
READ MORE: Messi injury woe: Barcelona star to miss El Clasico after fracturing arm
Not surprisingly, the internet was quick to come crashing down on one of the most love-to-hate villains in world football, some hinting that frustration's at Real's disappointing start to the season could be the real reason for Ramos' eruption.
Ramos was blamed by many football fans for injuring Liverpool's Mo Salah after the latter dislocated his shoulder in a tussle with the defender during the 2018 Champions League final in Kiev in May
All seemed to thaw out between the pair on Twitter; Ramos tweeted a group photo including himself and Reguilón with the caption: "Although it does not seem, [these] are quite common situations, but no excuse, my reaction should not be that. We always go to full, don't we, Regui? At the end of the team victory together. Shelve and for tomorrow's game."
Reguilón accepted the apology, tweeting in response: "Always with my team and my captain, for the victory tomorrow!"
The Spanish side and defending European champions go into the match at Santiago Bernabeu having lost their previous match 1-0 against CSKA Moscow in the Russian capital. They currently sit 7th in La Liga after nine games played.