'It's only business': Khabib's perfect 3-word response to McGregor's fight breakdown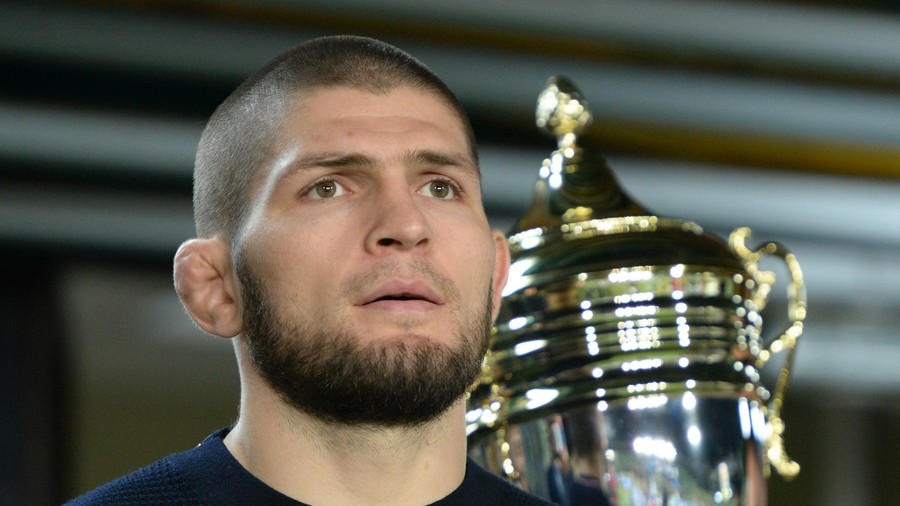 Khabib Nurmagomedov gave a short, sweet and scything response to Conor McGregor's lengthy breakdown of their fight at UFC 229 in just three words: "it's only business," in reference to the Irishman's utterance during their match.
READ MORE: 'Beaten fair & square': McGregor analyzes Khabib defeat, ready to face 'next in line' before rematch
UFC lightweight king Khabib, who defended his belt by fourth-round submission of 'The Notorious', taunted the former champ during the fight, repeatedly demanding the Irishman answer for his pre-fight trash talk in the cage.
Khabib numerous times asked McGregor to "talk now", and got an answer at the end of the 3rd round, when McGregor told Khabib "it's only business." Unfazed and still highly charged, Khabib replied "hey, let's go!"
Given his consistent provocation of Khabib in the fight buildup, some saw McGregor's response as a retreat, and even a betrayal of the authenticity of his trash talk, which went as far as to brand Khabib's father a "sniveling coward."
On Tuesday, McGregor gave a round-by-round breakdown of the fight and self-analysis, considering some rounds fell his way and admitting others were won by the Russian, and explaining major points such as his knockdown, but ultimately admitting he was "beaten fair and square."
"It was a great fight and it was my pleasure. I will be back with my confidence high. Fully prepared. If it is not the rematch right away, no problem. I will face the next in line."
READ MORE: Khabib dictates the terms, Mayweather will fight in Moscow – Russian boxing chief (VIDEO)
When the UFC rehashed the post under the caption Conor delivers his thoughts on UFC 229, Khabib was quick to pick up on it with one glaring ommission - the talking, not the fighting - and quip: "it's just business," the three words made more famous than any of the pre-fight hype.
Khabib, who moved to 27-0 with the victory, has since expressed his desire to follow in the same vein as McGregor and fight undefeated boxer Floyd Mayweather Jr. in a boxing match.
On Tuesday, Russian Boxing Federation chief Umar Kremlev told RT Sport that a fight would most probably take place at Moscow's Luzhniki Stadium, which corresponds to Khabib's wishes, as the fighter "dictates the terms" of any potential fight.
You can share this story on social media: