MMA legend Fedor Emelianenko's iconic striped sweater sells for $10.8K on eBay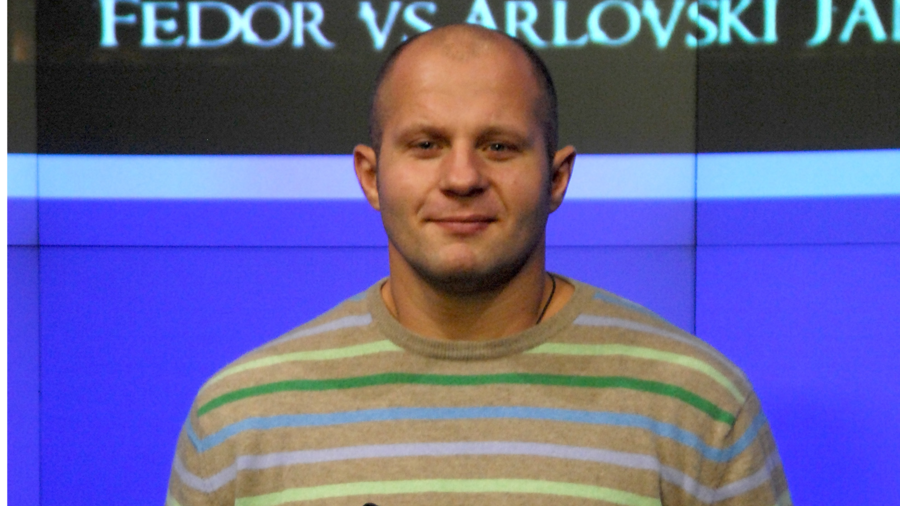 The famous striped sweater worn by Russian heavyweight MMA legend Fedor Emelianenko has fetched almost $11,000 on eBay, with part of the money raised going to children's charities.
The sweater has gained cult status in the MMA community since first making an appearance in 2009, with Emelianenko frequently sporting it at press events.
READ MORE: Bellator 208: Fedor Emelianenko TKO's Chael Sonnen to reach Heavyweight Grand Prix final (VIDEO)
The beige garment, which features horizontal stripes of various colors, has even acquired its own nickname, "The Glorious Sweater of Absolute Victory."
The iconic sweater was put up for auction before 'The Last Emperor's' recent fight with Chael Sonnen at Bellator 208, and has now fetched $10,800 on eBay, with half of the proceeds going to the Make A Wish charity and a Russian fund.
Fans appear to have taken to the unremarkable, somewhat fuddy item due to the stark contrast with the man inside it – with Emelianenko widely lauded as one of the most brutal fighters ever to grace MMA.
Last year, fight promotion Bellator even produced a spoof documentary video dedicated to the origin of the knitwear which riffed on its "magic."
Fans have also frequently donned the sweater in honor of the MMA legend.
Emelianenko, who has a professional record of 38-5, has previously said he wore the sweater simply because he liked it, adding that he didn't see what all the fuss was about.
"I think they exaggerate this meaning a little bit," the Russian heavyweight said last year.
"I do pay attention to what I wear. I think the sweater is of very high quality, so I wear it for a long time. But I don't think it has any significant meaning."
READ MORE: 'GOAT!' Plaudits roll in for Emelianenko as he destroys Sonnen at Bellator 208
Emelianenko, 42, went on to defeat US fighter Sonnen at Bellator 208 via first-round TKO, in a dominant performance that saw him progress to the promotion's Grand Prix Final against Ryan Bader in January.
You can share this story on social media: