'I stripped off for a reason' – Russian hockey fan backs team in unusual way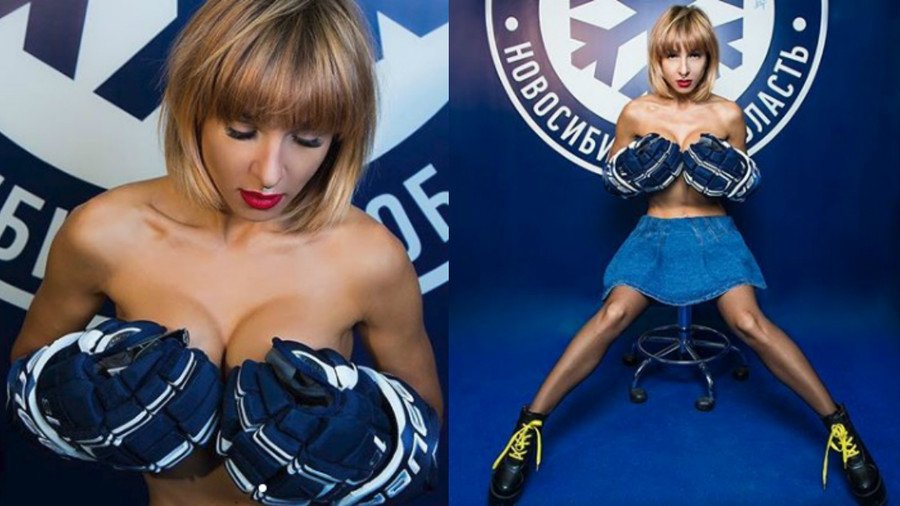 A fan of Russia's Sibir ice hockey club, Elena Kusacheva, has stripped off in support of her team – which has got off to a slow start in the new KHL season, sitting last in the standings.
READ MORE: 'I spent 10 yrs in the gym, I'll never hide my body' – Ice hockey presenter on 'sexism row' (VIDEO)
The hockey fan, whose revealing photo session has caused a social media stir, said that she wanted to "see more beautiful people in the stands," adding that Sibir supporters needed to be more enthusiastic in backing their team.
"Our home sector is very dull. These are people who came to watch hockey after a hard working day at a factory. I want to see more beautiful people in the stands. I want the stadium to be rebranded. I would like to see more colorful jerseys, because we are really too 'grey'," Kusacheva was quoted as saying by Novosibirsk outlet NGS.
Kusacheva, who will also be a presenter for HC Sibir's YouTube channel, said that her scantily-clad pictures were also dedicated to the global No Bra Day, aimed at raising breast cancer awareness.
"This was not only about ice hockey. The photo shoot was dedicated to the international No Bra Day which is of great importance," Kusacheva said.
"A great number of groups and organizations that are connected with the underwear market are celebrating it. I just wanted to show that the team is developing, that it has its own traditions. It's just a celebration, like Halloween."
The devoted Sibir fan also revealed that the YouTube show she is about to launch will be designed for local supporters, who she expects will help the team to end its losing streak.
"I can understand people who will stop attending the team's matches. That's why we decided to create the YouTube channel. We will record funny short videos with fans during hockey breaks. This show will be not about hockey, but about its fans," she said.
You can share this story on social media: