'Sex sells': Australian surfing legend criticizes ban on filming bikini-wearing athletes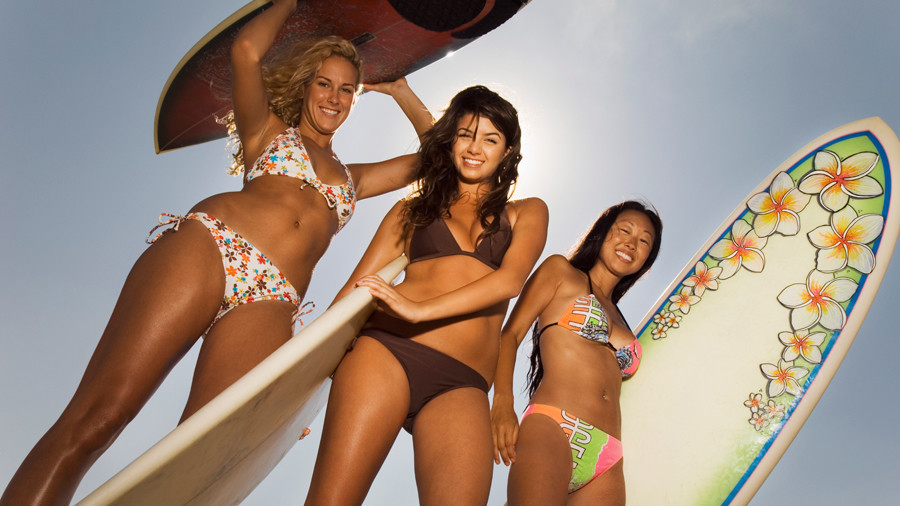 Legendary Australian surfer Layne Beachley has criticized the World Surf League (WSL) decision to urge cameramen filming surfing events not to shoot close-ups of female competitors wearing bikini swimsuits.
"I respect the fact women can choose the bikinis they wish to surf in based on comfort or practicality," Beachley told Brisbane's 97.3 radio.
"It's up to them to choose how they want to present themselves. I think it's a step in the wrong direction as far as telling cameramen that they can't film girls duck-diving or doing bottom turns, because that's a natural part of surfing," she added.
Last week, the WSL members met during the Quiksilver Pro Gold Coast event in Queensland, Australia to discuss a set of issues, with sexual harassment at the top of the agenda.
Following the meeting, the body instructed cinematographers not to zoom in on the bottoms of bikini-wearing surfers during bottom turns or duck dives. Wide shots are expected to be used for competitors in 'skimpy swimwear,' while female surfers wearing boardshorts will have more close-up scenes during live broadcast.
READ MORE: Formula 1 to replace 'grid girls' with 'Grid Kids' initiative
The decision was made as part of guidelines on preventing potential cases of sexual harassment on the tour, despite no incidents have been registered in the sport. "We hold our staff, content, and organization to high standards across the board," the WSL told news.com.au.
Beachley, who has won seven surfing world titles, criticized the decision which she thinks would hamper the surfers' attempts to attract sponsors and promote surfing. "I've always been a proponent of 'sex sells,' and that was a part of the generation that I came through, and we just struggled to get any attention and recognition, let alone sponsorships," she said.
"We've broken down those barriers and now the women are actually embracing there femininity, their beauty, their style, their grace and their sexiness. And if that's helping them sell the sport and improve their chances of being supported throughout their careers, then good luck to them."
You can share this story on social media: