Russian footballers Kokorin & Mamaev behind bars for 2 months awaiting trial over drunken assaults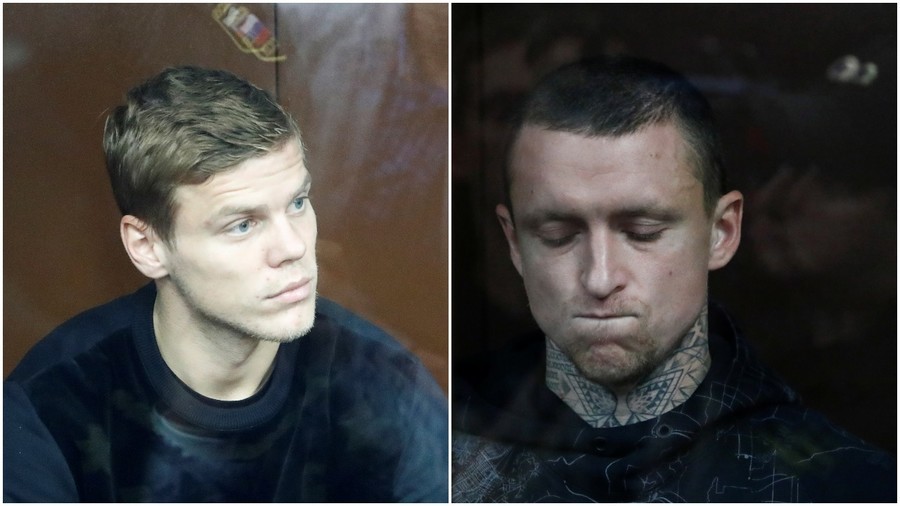 Russian footballers Aleksandr Kokorin and Pavel Mamaev will be detained in jail until December 8 while they await their fates for assaulting a civil servant and a driver in Moscow.
Zenit St. Petersburg forward Kokorin and Krasnodar midfielder Mamaev will stay behind bars while they await a ruling over charges of hooliganism. The crime carries a penalty of up to five years in prison.
The decision to detain the players for two months took place at a court hearing on Thursday, where Kokorin said he is "ashamed before the fans and the club" and apologized for his "outrageous actions."
Mamaev also apologized for his "scandalous acts," saying he is "ready to make amends for the moral and material damage suffered."
The two were detained earlier this week after video footage emerged that showed the men attacking two Russian trade ministry officials in an upscale Moscow cafe. One of the officials was hit with a chair while eating a meal; his lawyer claimed he received a concussion.
In a separate incident, the footballers attacked the driver of a television host and damaged her Mercedes. The driver was hospitalized.
Even if the pair escape serving lengthy jail time, their careers may well be over. Krasnodar has vowed to end Mamaev's contract, while Zenit has called Kokorin's behavior "disgusting."
The St. Petersburg football club removed all shirts bearing Kokorin's name following reports of the attack, and Russian Premier League chiefs have requested a lifetime ban for the duo.
The Kremlin has also chimed in on the incidents, with presidential spokesman Dmitry Peskov stating on Tuesday that the government, "just like the whole country," is aware of what happened, calling the video of the cafe event "rather unpleasant."
Think your friends would be interested? Share this story!
You can share this story on social media: