Fury after woman shames 8yo girl with special needs for 'cheering too loudly' at baseball game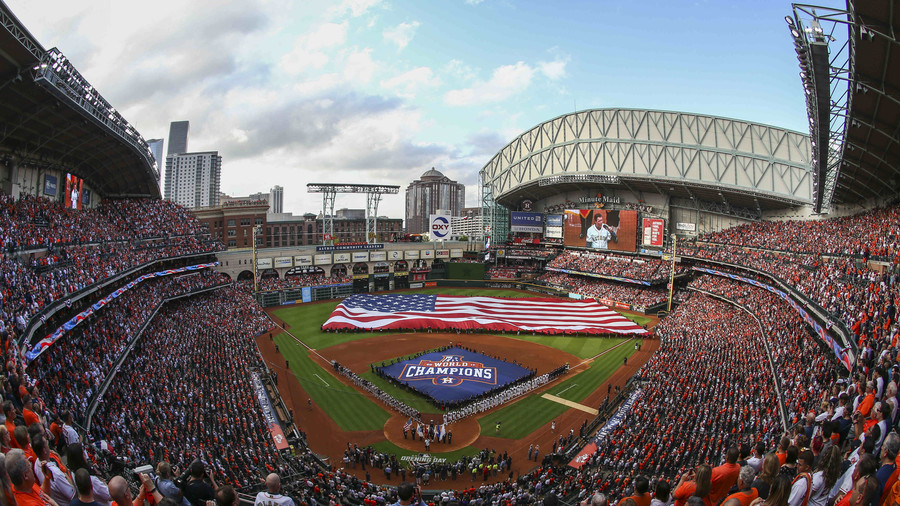 A woman who snapped at a young girl with special needs for apparently cheering too loudly at a Houston Astros game has faced a furious online backlash.
Chloe Beaver, 8, was supporting her beloved Astros against the Los Angeles Angels on Sunday when a woman sitting in the row in front turned round and sternly told her "enough."
READ MORE: More MLB stars hit by scandal after racist, homophobic tweets resurface
Chloe's mother, Monica, shared the clip on Facebook, explaining that her daughter suffers from disruptive mood dysregulation disorder (DMDD) which means that she "can't comprehend emotions greater than that of a toddler."
Beaver described her shock at the incident, saying: "This poor baby shut down. Completely defeated and refused to cheer the remainder of the game (5 innings) in fear she would get in trouble by this lady again!
"She is a HUGE Altuve fan and has been there trying to cheer her home team on!" the mother added, referring to Chloe's favorite player, second baseman Jose Altuve.
"And now she may not want to go back. This was a big step for her and her family. To find an outlet for her to positively express herself and now because of a stranger that may have been ruined!"
The clip was picked up by Stephen Morgan of Fox News, who shared it on Twitter - where it has since been viewed more than 5 million times.
The youngster has since received widespread support – including from Houston Astros players who pitched in with their backing.
First baseman Tyler White encouraged Chloe to "cheer as loud as you want," while pitcher Lance McCullers Jr. offered the young fan a ticket to see the game play.
Others hit out at the woman, saying they felt "hurt" for the young fan and advised the woman not to attend games if she was offended by loud noise.
The youngster's parents said they were initially concerned their daughter would be put off going to further Astros games, but that the overwhelming response had cheered her up.
The Astros - the reigning World Series Champions - beat the Angels 6-2 at the Minute Maid Stadium and sit top of the AL West league.
You can share this story on social media: