'Happy to be part of history': Nate Diaz announces new UFC superfighter division despite Dana denial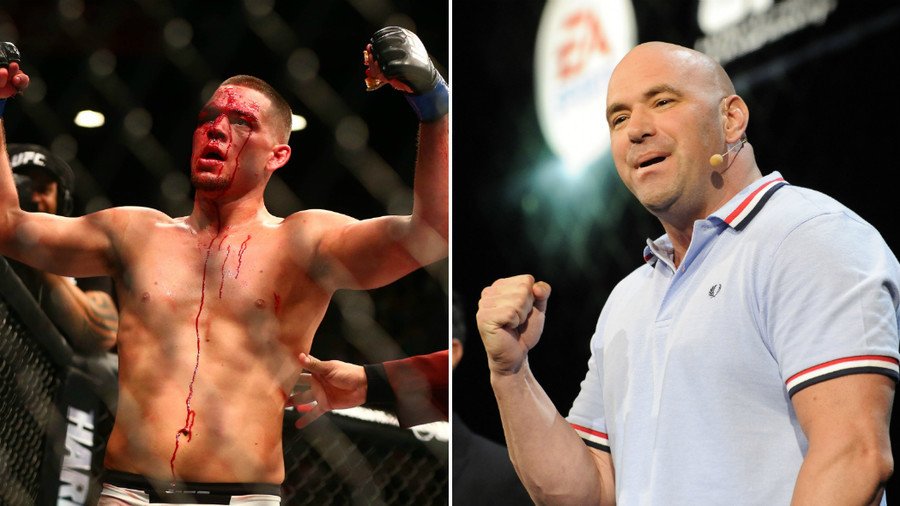 MMA superstar Nate Diaz shocked fans by announcing a new UFC 'superfighter' weight class at 165 lbs, in which he would fight Dustin Poirier at UFC 230, only to have his claims refuted by promotion President Dana White.
READ MORE: Jon Jones: I'm excited about potential Gustafsson comeback fight (VIDEO)
Diaz tweeted on Wednesday he would be contesting the inaugural bout in the new bracket when he headlines UFC 230 on November 3 in New York City against fellow lightweight Dustin 'The Diamond' Poirier, claiming he was "happy to be part of history".
Astonishing to fight fans the world over, his claim was backed up by potential 'superfighter' opponent Poirier, who tweeted: "Its been a long journey but here we are. NYC 1st ever 165lb Title in the UFC!"
However, the claims were quickly refuted by Dana White, with reports emerging that suggested the UFC boss had categorically denied any such 165 lbs weight division title tilt at the Madison Square Garden event.
Diaz is the only man to defeat Conor McGregor in UFC competition, submitting the Irish superstar in the 2nd round of their March 2016 matchup. The rematch between the two, a decision victory for McGregor at UFC 202 in August that year, recorded the highest UFC pay-per-view for a contest in the organization's history.
UFC veteran Poirier is also a former foe of 'The Notorious', being knocked out by McGrgegor within a round in 2014, although he holds recent notable victories over Eddie Alvarez and Anthony Pettis. The bout between the two is slated to take place at 170 lbs weight limit.
McGregor's next fight sees him take on undefeated Russian fighter and UFC lightweight champion Khabib Nurmogomedov, who in April fought for and won the vacant title in McGregor's 2-year octagon absence.
READ MORE: War of Words: The best quotes from Conor & Khabib's 'darkest' UFC 229 presser (PHOTOS/VIDEO)
The two took part in an NYC presser to promote that fight last week, where verbal insults were traded and former UFC featherweight and lightweight champ McGregor did the most damage with a volley of sharp-tongued put-downs, ahead of their October 6 matchup at T-Mobile Arena in Las Vegas.
You can share this story on social media: