'I'll beat Khabib in the name of the Russian people!' McGregor makes shock UFC 229 promise (VIDEO)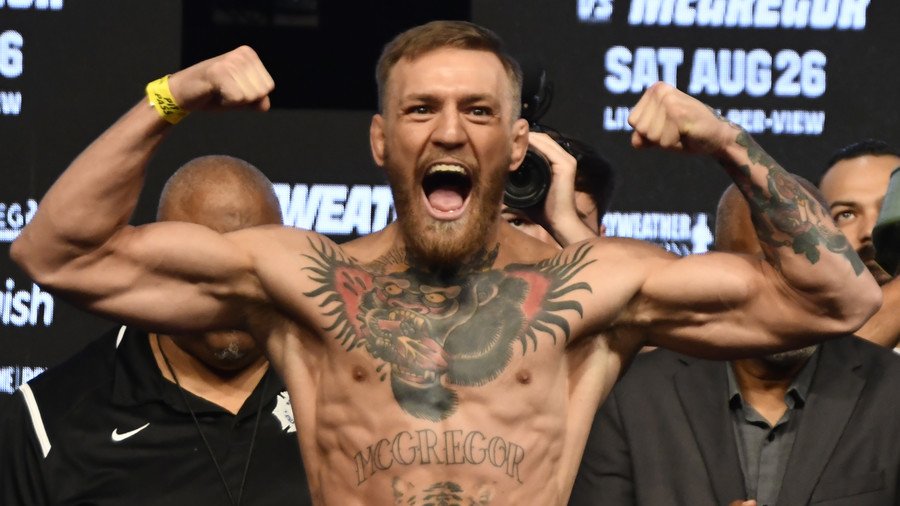 UFC lightweight title challenger Conor McGregor has made an astonishing claim to viciously defeat champ Khabib Nurmagomedov "in the name of the Russian people", at the New York press conference ahead of their fight at UFC 229.
READ MORE: WATCH LIVE: Khabib Nurmagomedov v Conor McGregor UFC 229 press conference from NYC (VIDEO)
McGregor was in typical audacious form at the presser, immediately grabbing the mic and center stage from UFC boss Dana White, and promised to defeat Nurmagomedov, from Dagestan, Russia, "in the name of the Russian people".
The Irish former featherweight and lightweight UFC champion goaded, danced and interrupted his way through Nurmagomedov's responses, consistently referencing the infamous bus incident between the two in the same city in April.
Among the insults, McGregor called Khabib a "lying b******", a "glass jaw rat" and said he would "bounce his head off the canvas", and even going as far as to overtly provoke the 26-0 undefeated current lightweight title holder.
READ MORE: 'He thinks he can KO me, we'll see': Khabib lays into McGregor ahead of UFC 229 press conference
McGregor arrived to the conference in a loud pink suit with two belts - a defiant reminder of him becoming the first fighter in the UFC history to simultaneously hold world titles in two weight divisions - and a bottle of his own tailor made whiskey, which he managed to sneak into the venue.
Khabib, celebrating his 30th birthday on the same day as Thursday's presser, simply sat across the table in a calm and collected manner, seemingly happy to soak up the pressure applied by the self-professed "champ champ".
You can share this story on social media: