'I've missed her!' UFC flyweight champ Cejudo reunited with belt lost en route to Moscow (VIDEO)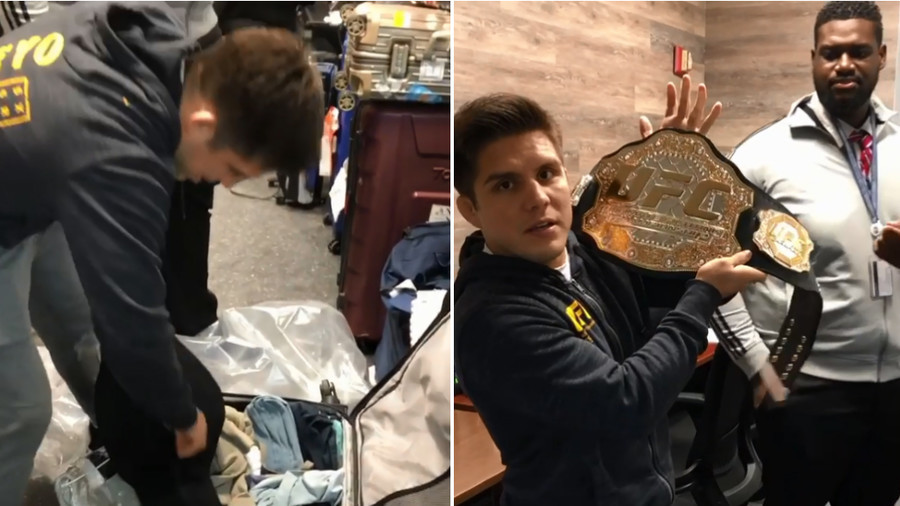 New UFC flyweight champion Henry Cejudo has finally been reunited with his beloved championship belt, eight days after it became lost when the fighter flew to Moscow for the promotion's maiden event in Russia last Saturday.
Cejudo became champ by defeating Demetrious Johnson by decision at UFC 227 on August 4, ending the American's seven-year undefeated streak and six-year reign as champion of the division.
The pint-sized pugilist - who stands 5 feet 4 inches tall - packed his prized possession in his luggage for the UFC Moscow event last Saturday, but a mishap at security meant that the two became separated when his luggage was lost due to the fault of the airline or airport.
"I was flying first class priority, but my luggage is lost at this point," Beijing 2008 Olympics 55kg freestyle wrestling gold medalist Cejudo told journalists gathered at Olimpiyskiy Stadium during UFC Moscow.
READ MORE: UFC Moscow becomes 5th-biggest in promotion's history, biggest ever MMA event in Russia (VIDEO)
Intriguingly enough, Cejudo's medal was also lost due to California wildfires in October 2017, but will be replaced by the International Olympic Committee (IOC).
"Luckily the UFC took me shopping, they took me on a shopping spree and I got all kinds of clothes, but unfortunately my belt was in my luggage. So now on top of my gold medal, now I've lost my belt! I don't know what it is about gold, I just can't keep it! But we're gonna find it, they're looking for the bags now."
Unlike other fighters who lose their belts in the octagon, Cejudo was quickly reunited with his trinket in New York, we're he collected his lost case from airport staff.
An excited Cejudo is seen approaching his bag, shouting "open the baby up!", even finding time to discuss his fight with an airport employee who describes himself as a fan.
When opening the luggage, Cejudo can't hide his delight when catching a glimpse of the belt: "There it is, there it is. From Moscow to New York and I finally got my big daddy," he says while unzipping the belt's svelte case, taking it out and hugging and cradling it.
READ MORE: World champion boxer Saunders sorry for 'sickening' clip offering crack for sex acts (VIDEO)
"Don't you ever leave my sight again, you hear me. You hear me! I've missed you. I've missed her," the champ says, before proudly holding the belt aloft, fighter and belt reunited once again.
Cujedo was in Moscow to witness the promotion's inaugural event in the Russian capital, where knockout legend Mark Hunt was submitted in the first round by Aleksey Oleinik in the card's main event.