'You don't know what he said': Juventus winger Douglas Costa hits back in spit shame row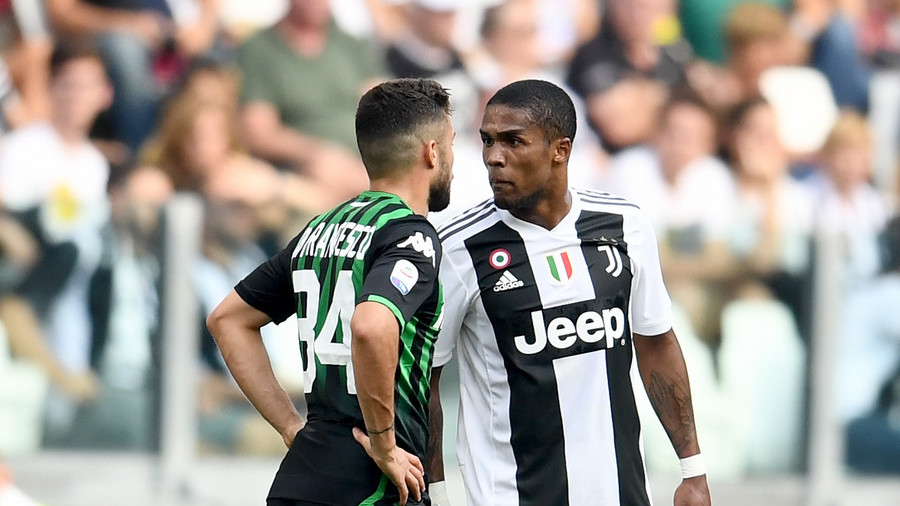 Juventus star Douglas Costa has hit back amid the scandal surrounding his red card for spitting at Sassuolo's Federico Di Francesco on Sunday, claiming he was provoked by the opposition winger.
Costa was seen spitting in Di Francesco's mouth in injury time at the end of the game, which Juve won 2-1 thanks to a Cristiano Ronaldo double - his first goals for the club since moving from Real Madrid this summer.
READ MORE: Easiest goal of his career? Cristiano Ronaldo FINALLY scores for Juventus (VIDEO)
The game was marred by Brazilian winger Costa's furious bust-up with Di Francesco, in which the Juve player was seen aiming an elbow and headbutt at his opponent before spitting at him.
He was handed a red card after the video assistant referee intervened, and Costa received widespread condemnation for his actions after the game.
Costa, 28, later posted an apology to Juventus teammates and fans on his Instagram account, although he replied to one comment by saying that people did not know what Sassuolo winger Di Francesco had said to him to provoke his anger.
"You don't know what he said to me. But no big deal... I say sorry to all those who I have to say it to, because I did wrong," Costa wrote, according to reports in the Italian press.
Juve manager Massimiliano Allegri said after the game that Costa would "rightly" be fined over the incident and would likely face a lengthy suspension.