NFL's Marcus Peters fined $13K for crotch-grab celebration (VIDEO)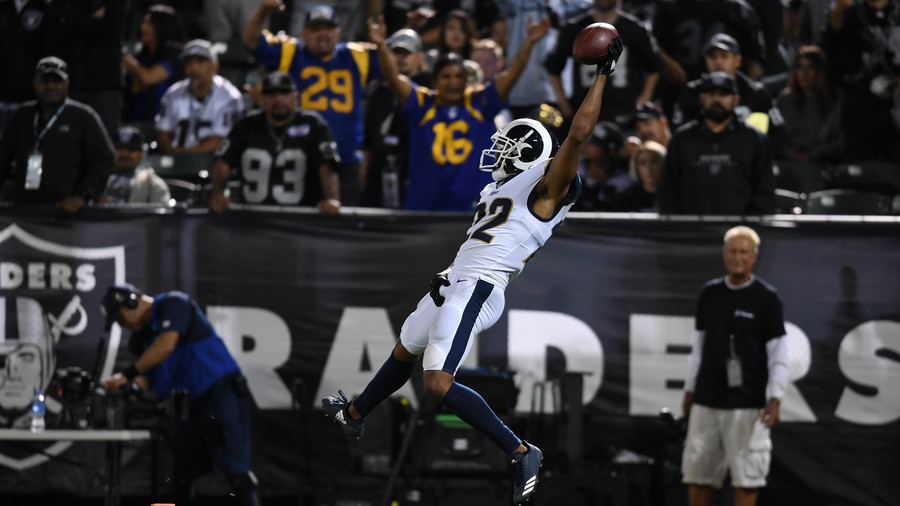 Los Angeles Rams cornerback Marcus Peters has been slapped with a $13,000 for his crotch-grab celebration in his team's victory over the Oakland Raiders on Monday night.
Peters pulled out the celebration after intercepting a Derek Carr pass late in the fourth quarter, running 50 yards to the end zone as he capped a 33-13 victory for the Rams.
READ MORE: 'Barrier-breaking' or 'embarrassing'? First NFL male cheerleaders spark debate
But the 25-year-old's exuberant celebratory move – which saw him leap backwards across the goal-line, grabbing his crotch in the process – has seen him fall foul of the NFL authorities.
He's now been handed a $13,000 fine by the league for his celebration of the pick-six, according to Jordan Schultz of Yahoo Sports.
The crotch-grab celebration was made popular by Raiders running back Marshawn Lynch, nicknamed 'Beast Mode'.
Peters hinted at that on Monday, saying: "I did the Beast Mode. That's what I did."
Lynch himself was previously fiend on several occasions for the move, which he first pulled out in 2011 after a 67-yard touchdown helped the Seattle Seahawks beat the New Orleans Saints.
Under NFL rules, celebrations deemed excessively profane or insulting are banned.
You can share this story on social media: