Ovi with the save! Washington Caps star protects wife from flying football (VIDEO)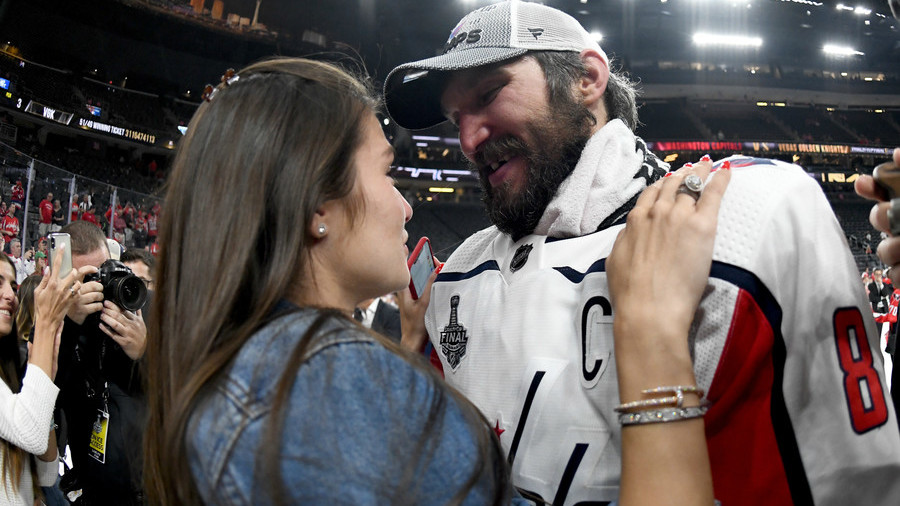 Stanley Cup winner Alexander Ovechkin displayed some impressive goalkeeping skills by deflecting a fast-moving football which could have hit his wife, Anastasia Shubskaya.
READ MORE: Russian NHL star Ovechkin wins ESPY best male athlete award
The couple – who saw the arrival of their first child less than a month ago – were at a friendly match between Brazil and El Salvador at the Washington Redskins home stadium on Tuesday night.
The 32-year-old hockey star was chatting with his wife behind the goal during the warm-up when a ball unexpectedly flew from pitch, almost hitting Anastasia's head.
For the Washington Caps captain, who merely flinched when taking a puck fully to the face last season, the fast-moving ball was easy stop, and he effortlessly knocked it away from Anastasia.
After the game, Ovechkin exchanged gifts with Brazilian star Neymar, whom he presented with his trademark number eight hockey jersey. Neymar returned the favor by giving the NHL star a pair of signed football boots.