'His claims of racism are exaggerated': German coach Low breaks silence on Ozil debate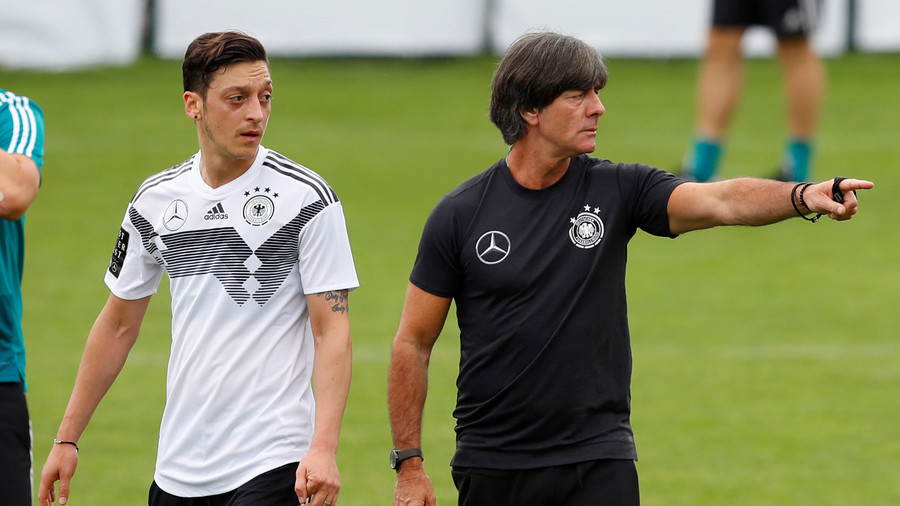 Germany coach Joachim Low has broken his silence on the debate surrounding Mesut Ozil's claims of racism, saying the player has not contacted him since his national team retirement and that his accusations are "exaggerated."
Manager Low, who has been at the German helm for over a decade, says the midfielder has not contacted him since his departure following allegations of "racism and disrespect" from the German football association (DFB) and unfair treatment from the media.
Ozil, who has Turkish roots, resigned from 'Die Mannschaft' aged just 29, citing being made a scapegoat by the media for the country's group stage elimination at the Russia 2018 World Cup, as well as criticism for a picture with Turkish President Recep Tayyip Erdogan one month before the tournament started.
"We underestimated the influence of these pictures with Erdogan. My only thought was to prepare well for the World Cup," said Low. "Mesut Ozil did not even call me. His agent called me instead. I've tried to reach Mesut several times but we did not talk until this day.
READ MORE: 'Wogs' & 'potatoes': Ozil revealed as part of German World Cup training bust-up
"This issue also cost us energy because it was always there. It is of course no excuse for our performance. That was not the reason. His claims of racism are exaggerated. Nowhere within my team during my time here, there has been not even a hint of racism. I underestimated the case," he added, Mirror reported.
On Tuesday, Ozil's former Germany teammate Ilkay Gundogan spoke out in support of the player, claiming he himself had sought treatment from a psychologist after suffering racist abuse from fans.
Gundogan faced strong criticism from supporters when he wrote "to my president, with my respects" on a shirt he presented to Erdogan, which subsequently led to boos from German fans in a friendly against Austria.
READ MORE: Merkel on Ozil debate: 'Mistreatment of immigrants must be taken seriously'
"Was the affair [concerning Ozil] racially motivated? You're telling me!" the Manchester City player said. "Is it not racism when a German politician writes on Facebook: 'The German national football team: 25 Germans and two goat f*****s?'"
Germany were humiliated at the World Cup, exiting at the first round following shock losses to South Korea and Mexico to record their worst showing at a finals for 80 years.