'Aladdin called...he wants his carpet back!' - sports world trolls Russian club's 'rug-style' shirt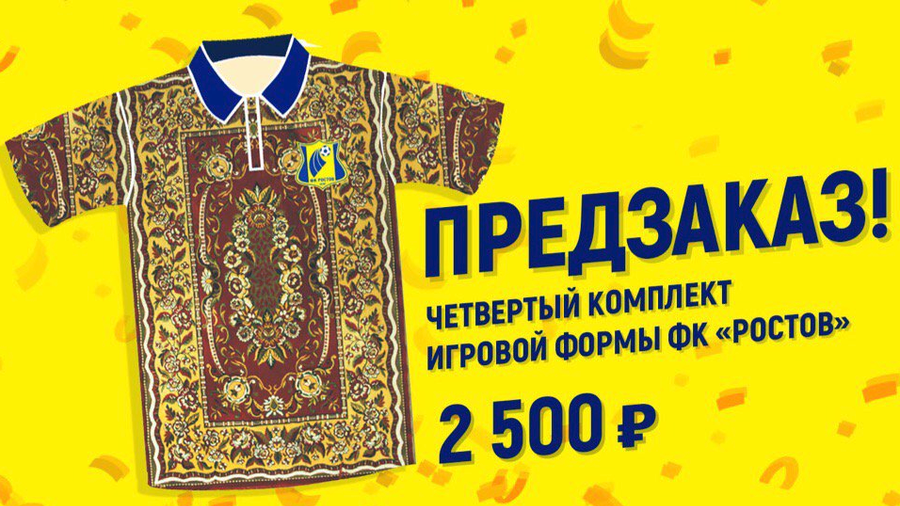 The internet has been split by Russian team Rostov's 'lucky' 4th kit - inspired by fans who celebrated a recent goal with a rug - with users comparing it with a pub floor, Soviet wall covering and even to Aladdin's carpet.
READ MORE: Russian football club release limited edition rug-style kit after fans' celebration
When Rostov striker Björn Bergmann Sigurðarson netted the opening goal in a 4-0 rout of Yenisey Krasnoyarsk in the Russian Premier League (RPL) on Monday, a group of fans were spotted in the crowd frantically waving a large rug in celebration.
Curious as to their intentions, the club issued a Twitter challenge to gain 500 likes for a tweet of their picture to have the rug put into their training base. After the tweet gained over 2,000 likes, the club set about finding the supporters, inviting them to the club HQ with the rug, whose owner, Aleksei, said would be a "mascot that would bring luck".
If that wasn't enough, the opportunistic club, not wanting to let such good fortunes escape their grasp, then announced it would be releasing a 4th shirt in the rug's dubious design, available for 2,500 rubles ($37).
The action made waves aroudn the sporting world, with many loving the 'hipster' design, while other eagle-eyed fans quickly picked up on the carpet pattern, and panned the jersey as an eyesore.
Despite the jibes, over 500 pre-orders for the shirt have already been received by the club for the alternative shirt. Rostov will be hoping the colours of their 'lucky mascot' will ensure they will not be a walked all over in the current RPL season.
You can share this story on social media: