Russian football club release limited edition rug-style kit after fans' celebration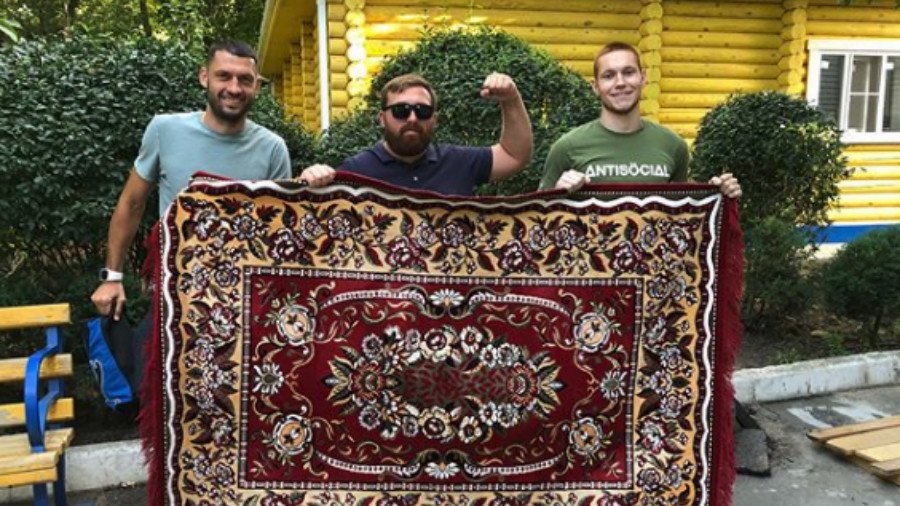 Usually football players make headlines for their wacky celebrations, but fans of Russian team FC Rostov have gained fame by celebrating with a rug – which the club are now using as the design for a new limited edition kit.
The idea came around after Rostov striker Björn Bergmann Sigurðarson netted the opening goal in a 4-0 rout of Yenisey Krasnoyarsk on Monday, when a group of fans were spotted in the crowd frantically waving a large rug in celebration.
Later, the club tweeted a still of the fans with the challenge that if the picture gained 500 likes the club would place the rug in their training base. Twitter answered the call of duty and went onto gain over 2,000 likes.
READ MORE: Italian ultras want 'women, wives & girlfriends' banned from stadium's 'sacred space'
After more than reaching their target, the owner of the rug, Aleksei, was summoned to the club's headquarters where he swapped the rug for shirt – although not in the new pattern – for the rug with a member of the team.
The club the announced they would be releasing an exclusive fourth alternative kit featuring the jazzy red and gold design of the rug for 2,500 rubles ($37), which had already received over 500 pre-orders and is available to buy on the club shop website.
In a video interview, Aleksei explained that he had the idea around a year ago, but harboured doubts as to whether he would gain access to the stadium with the carpet and declared the rug would "be like a mascot and bring luck."
You can share this story on social media: