Party like a Russian: Washington Capitals' Kuznetsov eats pelmeni out of Stanley Cup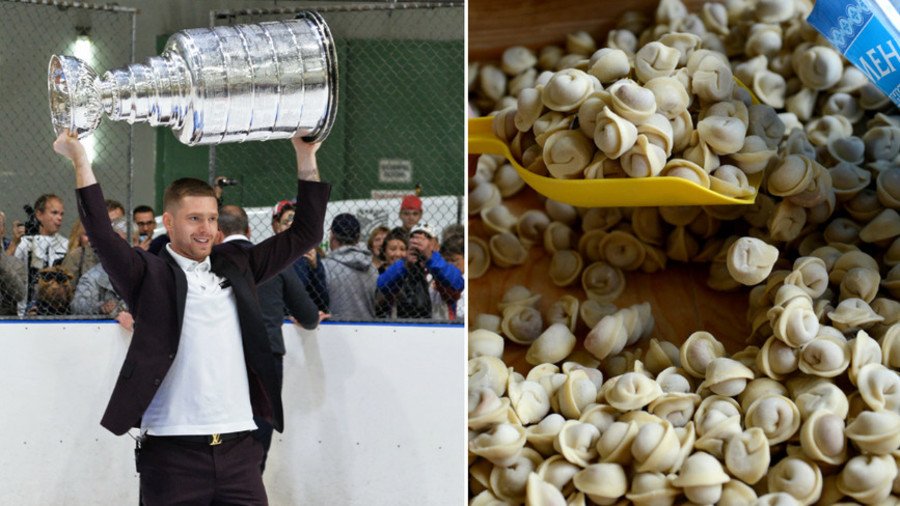 Newly-crowned Stanley Cup champion Evgeny Kuznetsov, of the Washington Capitals, brought the silver chalice to his home city of Chelyabinsk where he filled the trophy with a traditional Russian cuisine dish – pelmeni.
READ MORE: Ice hockey star Panarin mocks anti-Russian sanctions in tractor video
The Russian-style dumplings were placed in the cup as part of a well-known tradition which sees the NHL champions eating (or drinking) out of the trophy.
"Nothing better than finishing off a night... Russian style. Traditional dumplings from the Stanley Cup," wrote the Keeper of the Cup, Philip Pritchard, captioning the pictures of Kuznetsov tasting the dish.
Earlier on Wednesday, the trophy was displayed at the Traktor Ice Arena ahead of the local KHL preseason tournament, with fans getting a chance to take pictures with the coveted and probably the most-travelled championship trophy in the world.
In July, Caps captain Alexander Ovechkin was filmed eating black caviar from the bowl during his celebrations in Moscow.
You can share this story on social media: