'I will always respect the flag' – NFL legend Jim Brown on anthem protests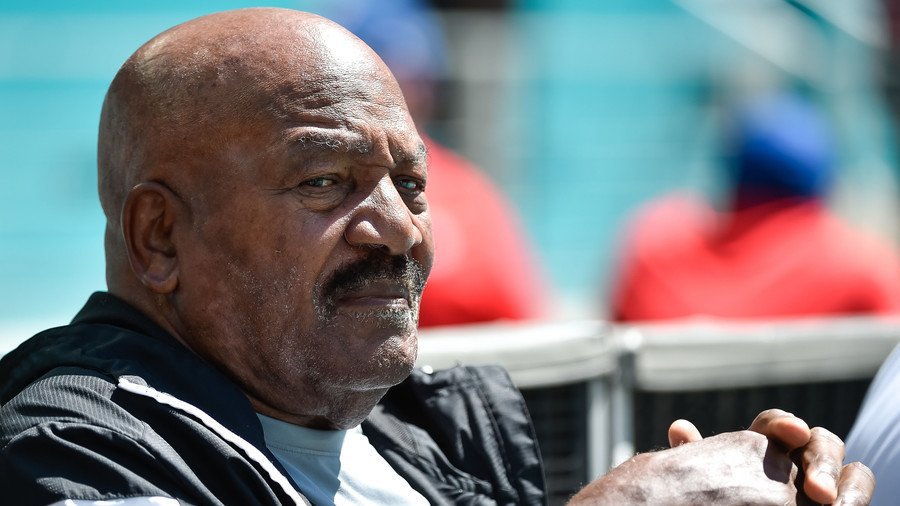 Former National Football League (NFL) star Jim Brown has said he would never join the kneeling protests that have swept the league over the past two seasons, adding that he "will always respect the flag" of his country.
The 82-year-old Hall of Famer, who has dedicated much of his post-NFL career to social justice activism, stressed that he respects players' rights to express themselves, adding however that he would prefer for them to stand for the 'Star-Spangled Banner.'
"I'll never kneel and I will always respect the flag," Brown was quoted as saying by the Associated Press.
"I am not going to denigrate my flag and I'm going to stand for the national anthem," the legendary running back said when asked how he would resolve the anthem problem surrounding the league.
READ MORE: Row after Colin Kaepernick's name censored from rap song on 'Madden NFL 19' video game
"I'm fighting with all of my strength to make it a better country, but I don't think that's the issue. Because what is the top side? Are you not going to stand up? This is our country, man.
"We work hard to make it better and that's my attitude, so I don't relate to this issue because it's newsworthy because where are your superstars? And where are they at? Aren't they making comments?"
READ MORE: 'Trump is using sport to divide us' – NBA star LeBron James
The anthem protest issue, which had been among the most highly-debated problems in the league last year, reignited in July after it was reported that the Miami Dolphins planned to suspend protesting players for up to four games under a new team policy.
In the wake of the news, the NFL and NFL Players Association made a joint statement saying that no anthem-related team policies will be enforced for the next several weeks as part of a standstill agreement between the two sides.
You can share this story on social media: