'I don't understand why I'm not among the candidates' – Maradona on Argentina national team job
Published time: 8 Aug, 2018 15:15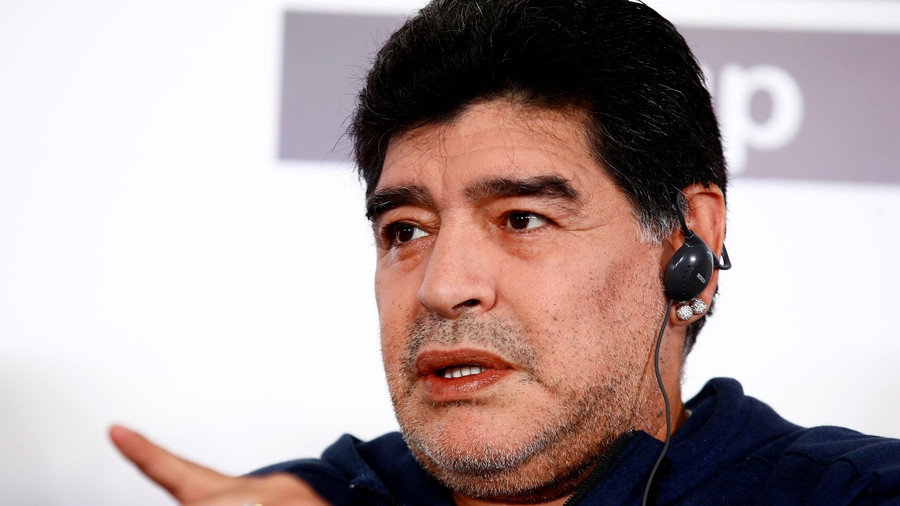 Football icon Diego Maradona has expressed dismay at apparently being snubbed by the Argentinian media as a potential candidate to take over as manager of the national team.
In an Instagram post published on Tuesday, the 1986 World Cup winner said he didn't understand why Argentinian sports outlets ignored him in their list of candidates to take over at the helm of the national team, after the departure of Jorge Sampaoli.
READ MORE: 'I have money for big transfers, we want UCL football' – Maradona makes Dinamo Brest promises
"With due respect to the Argentine national team, I want to say that it bothers me that some journalists do not include me in the list of the possible candidates," the former Napoli and Barcelona star wrote.
"I regret that some Argentine newspapers speak about other former team managers, but not about me. But this is the sports journalism we have in Argentina," the 57-year-old said.
Maradona recently joined Belarusian club Dinamo Brest as chairman on a three-year contract, but said he would give his life to take the helm of the national team.
"Anyway, I have a three-year contract with Dinamo [Brest], and they have my word. Although I would give my life for being selected [as the team manager]," he wrote.
READ MORE: From Titanic to The Undertaker - Maradona memes circulate after crazy celebrations
Last month the Argentinian icon said he was prepared to coach the national team for free, after Sampaoli left the post in the wake of the country's underwhelming performance at the 2018 World Cup in Russia, where they bowed out in the last 16 to eventual winners France.
Maradona previously had a stint as national team manager between 2008 and 2010, leading the team to the World Cup in South Africa. They suffered a 4-0 defeat to Germany in the quarter-finals, after which the Argentinian Football Association decided not to renew his contract.