UFC 227: Longtime flyweight champ Johnson dethroned, Dillashaw ends Garbrandt rivalry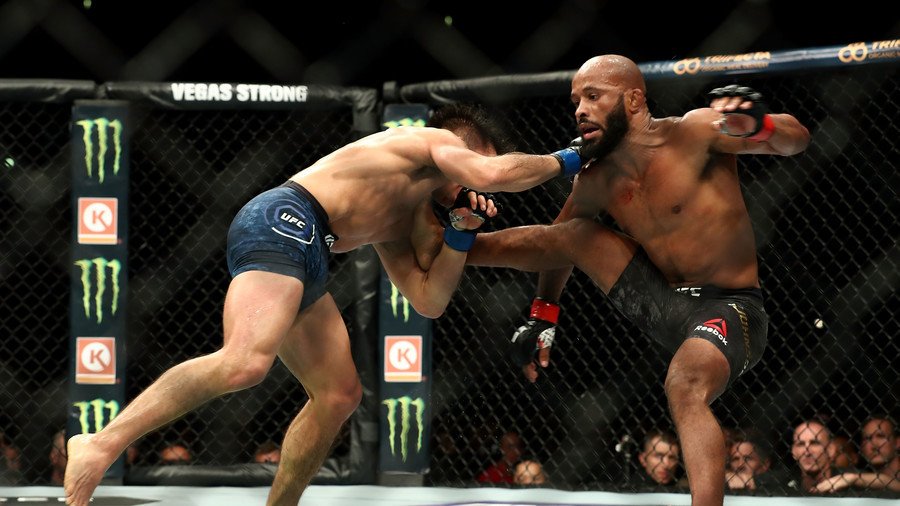 Demetrious Johnson's record-breaking run of consecutive title defenses is over after the longtime flyweight king was beaten by Henry Cejudo in Los Angeles, while TJ Dillashaw earned a second TKO win against rival Cody Garbrandt.
One of the the most successful runs in UFC history came to an end inside the Staples Centre in Los Angeles on Saturday, as Demetrious Johnson was beaten for just the second time in his career (and for the first time at 125lbs) by Olympic gold medalist Henry Cejudo.
READ MORE: Khabib Nurmagomedov v Conor McGregor confirmed for UFC 229 in October
Cejudo was awarded the razor-thin victory by split decision on the judges' scorecard after a classic back-and-forth bout which began much like any other Demetrious Johnson fight, as the dominant champion used his speed to flummox the challenger.
A repeat of their first meeting more than two years ago in which Johnson won by first-round TKO looked possible, but it would soon become obvious that Cejudo had improved immeasurably since his first title shot at UFC 197.
READ MORE: 'The champ champ is back!' MMA community reacts to McGregor v Nurmagomedov announcement
Cejudo sprang to life in the second, using his world class takedown ability to instil a sense of hesitancy in the champion's attacks. Johnson looked to even the keel in the third round, showing exceptional grappling defense on numerous occasions, but Cejudo was the more energetic of the two fighters as it entered the championship rounds.
The decision win put a close to the second-longest title run in the organization's history (5 years, 10 months), ending Johnson's 14-fight unbeaten streak in the process.
"I came in, I was knocked out in the first round two years ago, and this time I came in and defeated the legend and now I'm the champion," Cejudo said immediately after the bout.
Meanwhile, in the main event, former training partners turned bitter rivals TJ Dillashaw and Cody Garbrandt tangled for a second occasion and much like their first meeting in New York last November, it was Dillashaw who would emerge from the fight with bragging rights.
The fight would follow a similar blueprint to Madison Square Garden. Garbrandt, the former bantamweight champion, came out swinging and dropped Dillashaw early in the first with a right hand but in his efforts to chase the victory, his technique suffered in place of expediency and it allowed Dillashaw an opportunity to weather the barrage and regain composure.
And how he did. Dillashaw countered Garbrandt's aggression, dropping his opponent with a thunderous strike of his own - but unlike 'No Love', Dillashaw kept his head and employed a more measured approach in pursuit of the win.
Garbrandt, clearly feeling the pace, was caught with a right hand as he looked for a takedown, giving Dillashaw the opportunity he needed to swarm against his opponent who was now trapped against the fence. A flurry of punches, along with a concussive knee, persuaded referee Herb Dean to wave off the fight.
Dillashaw retains the 135lb title he won from Garbrandt last year, in doing so consigning the Team Alpha Male fighter to the bottom of the ladder less than a year after he was its undisputed champion.
READ MORE: 'Biggest fight in UFC history' – Dana White on Khabib Nurmagomedov v Conor McGregor
"I believe I'm the best of all-time at bantamweight," said Dillashaw post-fight.
While Dominick Cruz may have something to say about that, he has certainly provided ample evidence to support his claim.
You can share this story on social media: