Pitch-invading kangaroo stops Aussie soccer match (VIDEO)
Published time: 25 Jun, 2018 13:56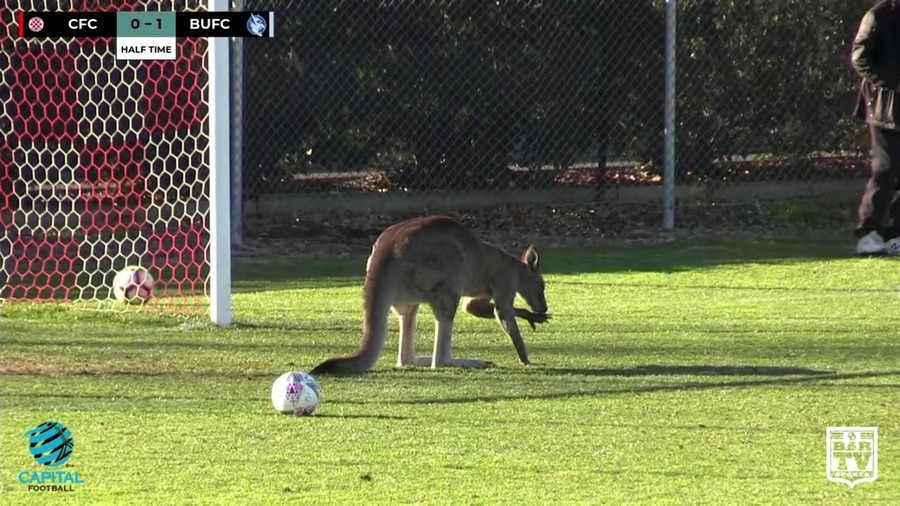 Displaying his pace and agility, a plucky kangaroo forced an Australian soccer match to be delayed for almost 20 minutes after he invaded the pitch and camped out in the goalmouth.
Belconnen United FC were beating their rivals from Canberra 1-0 in a women's premier league match when the marsupial staged the bizarre pitch incursion during the second half of the game.
READ MORE: Down, sport! Man fights kangaroo to save dog's life
Bar TV Sport caught the speedy roo's actions on camera and a clip of the incident shows the animal doing his best impression of an attacking midfielder by bounding up the center of the Deakin Stadium pitch.
"The kangaroo is on the field of play again and racing across the field of play, scattering players left and right," the commentator on the game can be heard to say.
In what appears to have been an effort to move the kangaroo away from the goalmouth, a football was passed towards the animal, which the marsupial controlled easily with a deft flick of the tail.
READ MORE: 'Roo must be kidding: Cyclist body slammed by marauding marsupial (VIDEO)
The bizarre invasion forced the game to be postponed as ground staff tried to get rid of the disruptive creature, according to the Sydney Morning Herald. The animal was eventually chased out of the venue with the help of a truck.
If you like this story, share it with a friend!