Washington turns red after Caps' historic Stanley Cup triumph
Published time: 8 Jun, 2018 15:00
Edited time: 9 Jun, 2018 12:18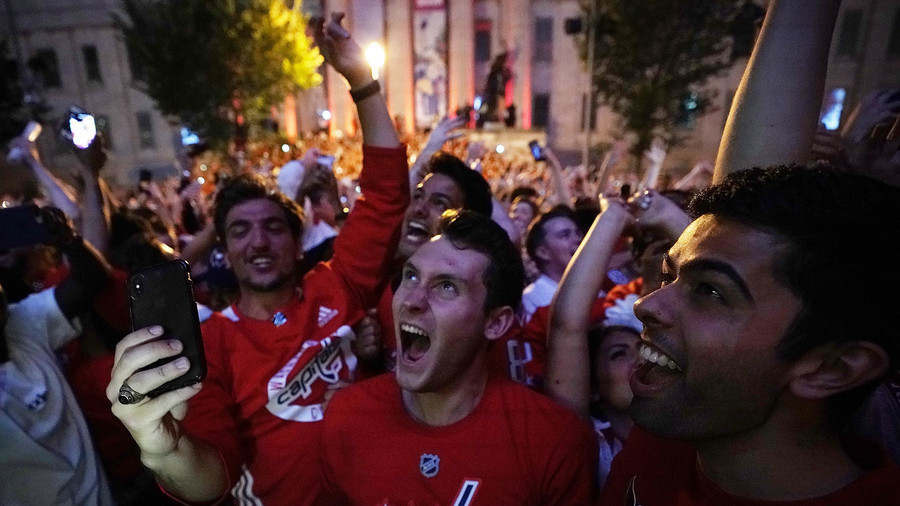 The US capital was submerged in a sea of red hockey jerseys after the Washington Capitals beat the Vegas Golden Knights to claim the franchise's first ever Stanley Cup.
On Thursday evening, thousands of Caps fans gathered around Capital One Arena to view game 5 of the Stanley Cup Finals, which turned out to be the last in the best-of-seven series, as the Caps sealed their fourth and final win against the Golden Knights 4-3 in Las Vegas.
As team captain Alex Ovechkin lifted the trophy, Caps fans broke into wild celebrations, flooding the streets of Washington and cramming the steps of the National Portrait Gallery.
Thousands of people marched down the streets dancing and singing on Thursday night.
Some fans climbed on trees and light poles to celebrate the team's historic accomplishment.
Washington taxi drivers immediately seized the opportunity to increase fares, as the entire city was involved in massive celebrations.
The Capitals won their first Cup in team history. Their previous best result was registered 30 years ago, when the team reached the Stanley Cup Finals before being swept in four games by the Detroit Red Wings.
Ovechkin finally got his hands on the prestigious trophy in his 12th season with Washington.