US women's soccer player refused call-up over gay rights shirts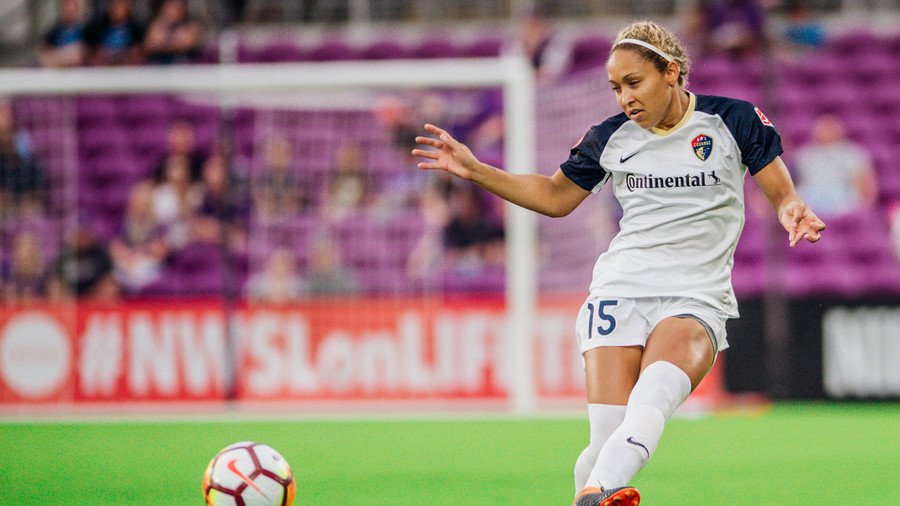 US women's soccer team defender Jaelene Hinkle says she refused to play in two international matches last year because as a Christian she did not want to wear a shirt promoting LGBT pride month.
Hinkle, 25, revealed that she rejected the call-up to play in games against Sweden and Norway last June because the US team wore shirts with rainbow-colored numbers in honor of LGBT pride month.
Speaking to Christian talk showThe 700 Club, North Carolina Courage defender Hinkle revealed that her religious beliefs meant she felt she could not wear the LGBT shirts.
READ MORE: Wallabies star Folau rekindles anti-gay controversy again after sharing 'homophobic' video
"I gave myself three days to just seek and pray and determine what [God] was asking me to do in this situation," the player said in the show, broadcast on Wednesday.
"I'm essentially giving up the one dream, and I'm saying no to it. It was very disappointing.
"That's where the peace turns to disappointment, because I knew in my spirit I was doing the right thing. Just because you are being obedient, it doesn't make it easy."
The reasons for the player's absence were not formally announced at the time, although some had mentioned the potential connection with her faith.
Hinkle had made eight appearances for the national team prior to the games against Sweden and Norway, but has not been called up since.
She was booed in a Cougars game in Portland on Wednesday night, shortly after the interview on the 700 Club was published, and some fans in the stadium also waved rainbow flags.
Jaelene Hinkle — a Courage player who declined a U.S. Women's Team call up last June apparently because the team would be wearing jerseys in honor of LGBTQ Pride Month — was just booed by the home crowd as she was announced. #PORvNC

— Hayes Gardner (@HayesGardner) 31 May 2018
Hinkle did, however, find support from US women's national team manager Paul Riley, who said on Wednesday: "She's got a good heart, and she battled through the game. It's not an easy thing for her.
"I give her a lot of credit. Whatever her beliefs are, whatever she believes in, that's her. It doesn't affect the team," ESPN reported.
Courage teammate Jessica McDonald also offered her support, saying: "She is high on her faith, and in my honest option that's absolutely incredible."
READ MORE: Gay US Olympic skier jibes VP Pence over LGBTQ stance, has 'no inclination' to meet him (VIDEO)
"If she's for God, then that's fine, that's great if that's what keeps her going in her life and keeps positivity in her life, then let that be. Everyone has their opinions about the Bible and God. It's obviously not in my control what she thinks.
"At the end of the day, I'm still going to be friends with her. We have no problems with each other. She's never said anything bad about me. She never said anything bad about anybody. So, for people to pass on that kind of judgement on another human being, I think it's sort of uncalled for," McDonald added.
The US women's national team has a number of openly gay players, including Megan Rapinoe, who is a prominent LGBT activist.
You can share this story on social media: