Carpet diplomacy: Iran unveils World Cup-themed rugs to be gifted in Russia (VIDEO)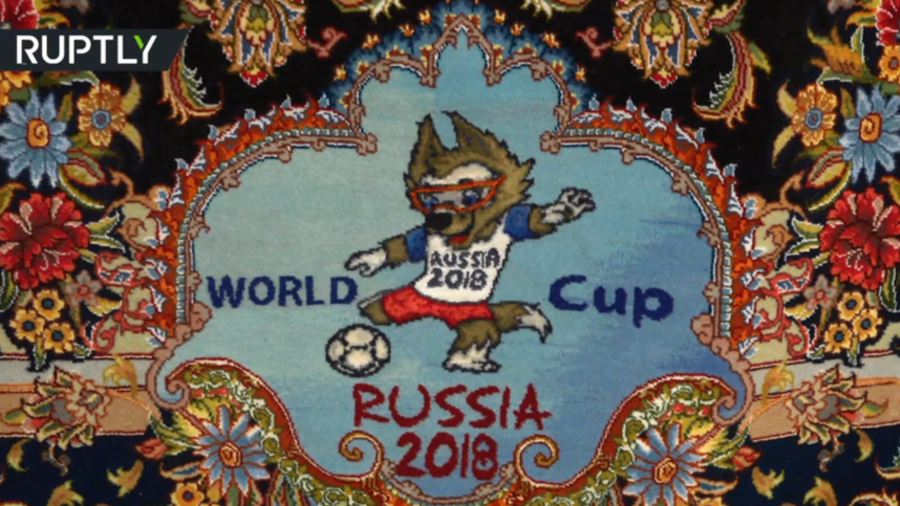 Seven FIFA World Cup-themed Persian carpets and rugs have been unveiled in Tehran ahead of the 2018 tournament in Russia. The silk carpets are to be gifted to football bodies, while the rugs are for the teams Iran will face.
Four large carpets feature the World Cup trophy, Russia 2018 mascot Zabivaka, the goal-scoring wolf, as well as images of iconic sights in Russia and Iran. All four carpets have unique details relating to the nation or body that will receive the lavish gift. The one going to FIFA, for example, bears the logo of the organization.
"One of them will be donated to the Razavi shrine custodian, another carpet will be donated to the Iranian Football Federation, the third to FIFA, and the last to the Russian Football Federation," carpet provider Hamed Heydari told RT's Ruptly.
The weavers have produced three smaller rugs as well, which bear the logos of national teams that will play Iran in the Group B of the tournament – Morocco, Portugal and Spain. The carpets are expected to be given as a gift by the Iranian team captain to his counterparts.
The carpet-making process is complex and time-consuming. It took over six months to make the World Cup 2018 set. "We started weaving these rugs six months and 15 days ago. Two shifts of eight people, that is 16 people put together worked on them. The fabric is 80 percent silk." Heydari said.
The tradition of weaving special carpets marking World Cup tournaments emerged back in 1998, when Iran managed to qualify for the football showpiece for the first time since the 1979 Islamic Revolution. Since then, the weaver team has produced carpets marking every world championship.
"The goal of weaving these carpets is to introduce the genuine Iranian culture into international arenas. The rugs will go down in history. One of them will be kept at the Russian Football Federation. May the entire world see these carpets and realize that Iranians are people of the arts," carpet weaver Hossein Kazemi Hamed said, adding that he himself used to play football, and his "love for sports made me bring carpets and sports into some sort of a relationship."
Like this story? Share it with a friend!
You can share this story on social media: