Get your skates on! Russian hockey goalie pushed to rink in trolley at World Championships (VIDEO)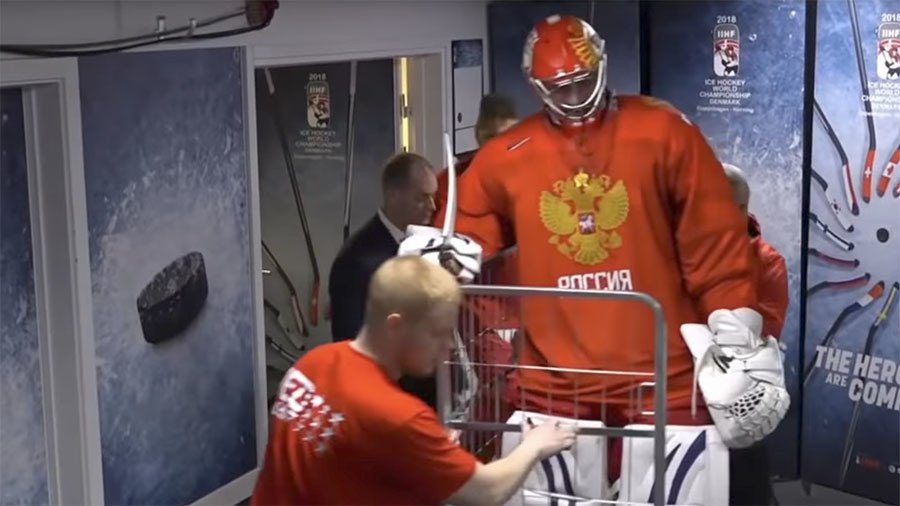 This is the moment Russian goaltender Vasily Koshechkin was pushed in a trolley to the ice rink during Russia's final group match against Sweden at the 2018 World Championships.
Two staff members were needed to pull Koshechkin from the team's locker room to the hockey rink at the Royal Arena, Copenhagen, Denmark, on Tuesday.
Koshechkin, riding in style to the rink, was caught on camera during the third period of the game which ended 3-1 in favor of the Scandinavians.
Russian head coach Ilya Vorobyev explained that locker rooms at the stadium are located a long way from the rink, prompting the team to use the unusual transport method to bring the heavily-equipped Koshechkin to the ice.
"This is because our locker room is too far away. We have to walk around the rink because they refuse to open the exit door next to us as they say the ice will start melting," Vorobyev told R-Sport.
"Vasiliy weighs 110 kg and his sports kit is also very heavy. It's difficult for him [to cross this distance]. That's why we decided to transport him to the skating rink. This is the first time I see this, but there is the first time for everything."
Despite the defeat, Russia made it to the playoff round by finishing second in Group A, four points behind Sweden, and face Canada in the quarterfinals on Thursday.
You can share this story on social media: