Tongue in cheek: NHL player Marchand licks opponent on ice... again (VIDEO)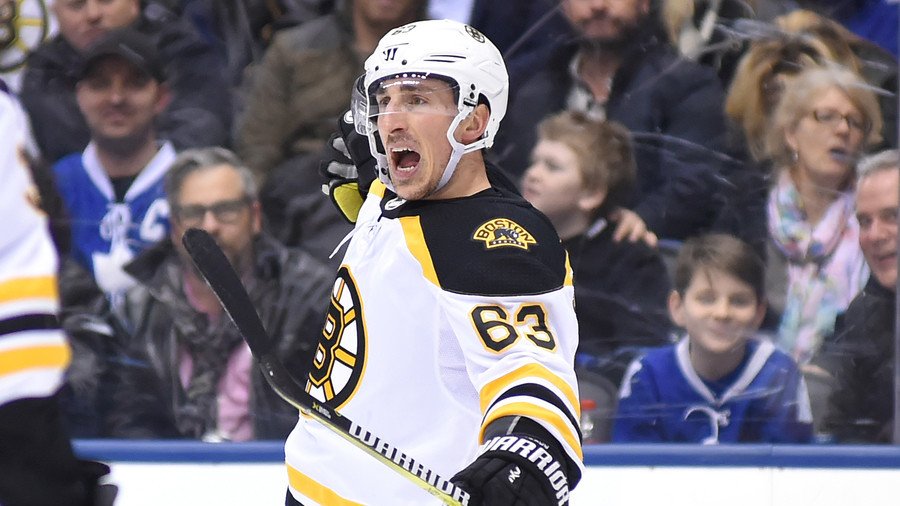 Hockey players are known for fighting with their opponents on the ice, but Boston Bruins winger Brad Marchand was apparently bored of punches. Instead, he decided to lick his opponent on the face – and not for the first time.
The incident took place during Game 4 of the Boston Bruins' second-round NHL playoff game against the Tampa Bay Lightning, following an exciting frenzy on the ice. Once the puck was no longer in play, a skirmish between Marchand and Tampa's Ryan Callahan broke out.
While Callahan approached Marchan with the usual hits, shouting, and helmet bashing, Marchand stuck out his tongue and proceeded to lick Callahan on the face.
Brad Marchand getting up close and personal with Ryan Callahan. Who licks someone on the face in a playoff game?!?! 👅😖Answer: Brad MarchandCan you imagine if Lance Stephenson did this to LeBron James!??😳#GoBolts#NHLBruinspic.twitter.com/ZsHrdsoLnS

— John Sabol (@John_Sabol) May 5, 2018
When asked why he took the unorthodox approach, Marchand said that Callahan "punched me four times in the face, so, you know, he just kept getting close... nothing big," ESPN reported. It's unclear whether he was referring to one particular incident, or to Callahan's behavior throughout the entire game.
Callahan, meanwhile, said he hopes the NHL looks into the incident. "I don't know if there is discipline for spitting in someone's face. But for me it's worse, if not the same."
And when Marchand was asked about Callahan referring to the incident as spitting rather than licking, the Bruins player said: "That's cute. Good for him."
READ MORE: Russian hockey star Kovalchuk donates his Olympic bonus BMW to cancer charity
It's weirdly not the first time that Marchand has used his tongue as a weapon on the ice. He used the same antic against Toronto Maple Leafs player Leo Komarov last month.
"I thought he wanted to cuddle. I just wanted to get close to him," Marchand said after that game. "He keeps trying to get close to me. I don't know if he's got a thing for me or what. He's cute."
It remains unknown whether the league will reprimand Marchand for the latest offense. It's been only days since NHL Deputy Commissioner Bill Daly confirmed to USA Today that Marchand wasn't punished for the first licking incident.
Like this story? Share it with a friend!
You can share this story on social media: