'We are born with that talent' – Portugal football star Nuno Gomes on national team success
Published time: 27 Apr, 2018 16:49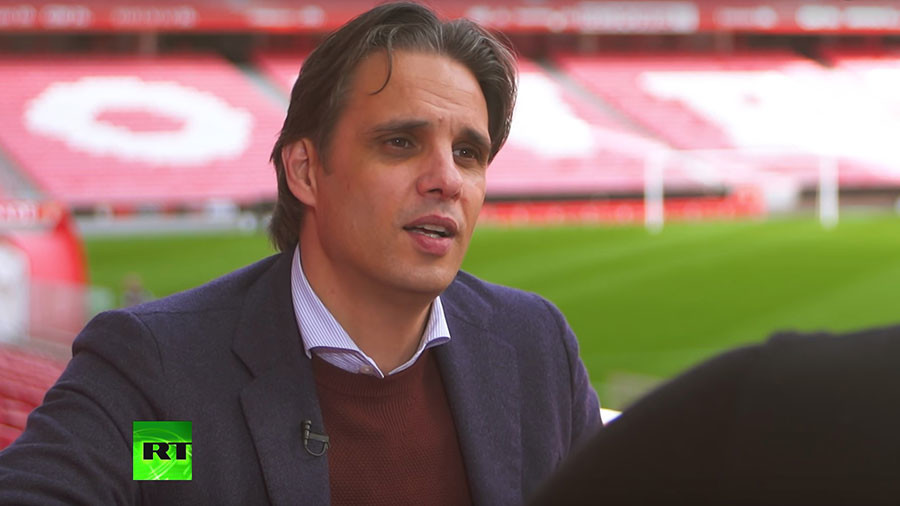 One of Portugal's most recognizable strikers, Nuno Gomes, joined The Stan Collymore Show to talk about his remarkable football career, his experience with the national team and Portugal's chances of victory at the 2018 World Cup.
Nuno Miguel Soares Pereira Ribeiro, known as Nuno Gomes, was given his nickname in childhood in honor of Portuguese star striker Fernando Gomes, who played in the late 1970s and 1980s.
Gomes represented Portugal at two World Cups and three European Championships, helping the team to the final at Euro 2004 and to claim third at Euro 2000.
Talking about the qualities necessary for a striker, Gomes said that confidence and self-belief are key elements for a successful career.
"I think it's a natural thing for the strikers. Even though you are doing your career, there are times when you are not as confident as you should be. Because sometimes you have two or three games in a row without scoring, so there is a lack of confidence in that times. When I was a young kid, I always used to play as a striker and I was always the top scorer of the team every year in the tournaments in my city. So it comes natural. Self-belief and hard work are very important.
"One of the most important things for a striker is always to be in the right place, because it's the question of scoring. If you are not in the right place you don't have a chance to win."
Gomes' talent was early discovered by Portuguese coaches, who invited him to play for the national junior team at the age of 15. Recalling his experience of competing at the junior level, Gomes stressed that it helped him to evolve into a top-class player.
"In national team you have to contact [cooperate] with other players: with Portuguese players that played for other clubs, sometimes stronger, sometimes weaker than you. And you create this relationship and atmosphere you live in. If you go abroad with the national team you may talk to other players and see different cultures. You also receive competitive experience that helps you to grow. It's very important for a young player to steadily develop his progress while playing for the national team."
READ MORE: 'Politics should not get involved in football' – former Portugal striker Nuno Gomes
Gomes joined Benfica in 1997 and played almost 400 matches for the club, scoring over 166 goals and winning two Portuguese league titles. He said that he never regretted refusing several offers from foreign football clubs in order to stay in his beloved Benfica, where he played for long 12 seasons.
"It was amazing and I'm still proud of that. I played for Benfica 12 seasons and I was the team's captain. It was a choice of the heart I think. Because I was a Benfica fan since childhood and it was like a dream come true. And sometimes I preferred to stay here [in Lisbon] instead of playing abroad. But it was worth it because when I look back, I'm very proud of what I achieved in Benfica and the national team of course. But there was a specific [atmosphere] at Benfica stadium because the fans are amazing and Benfica is one of the greatest clubs in the world."
Talking about Portuguese players' talent, Gomes noted that despite being a small country, Portugal has always produced fantastic creative footballers who shine on the international stage.
"Even if we are a small country we have natural talent, we are born with that talent. And I think it's true there are a lot of offensive actions from the [Portuguese] midfielder line. We have a lot of creativity and natural talent, so it comes natural, the relations with the ball [to acquire ball control skills]."
Euro 2000 was the tournament where Gomes shot to fame, bagging four goals and helping Portugal to reach the semi-final against eventual champions France. However, his success was marred by an incident when Gomes was banned for pushing the referee.
"Euro 200 changed my career and my life. The first game when I made it to the first 11 [starting line-up] was the semi-final against France. France had an amazing team. They won the 1998 FIFA World Cup and then they won Euro 2000. We lost 2-1 against them in the semi-final. We were winning 1-0 after I scored the goal and after a penalty [they defeated us]. It seemed that there was no hand [foul], but after reviewing the moment in the hotel we realized that it was a hand ball. But after the game we were very upset, and we thought that the goal shouldn't have been conceded. We went to the referee, some of the guys, including me, pushed him and three or four of us got banned. Of course afterwards we regretted those things [pushing the referee], it shouldn't have happened. But it was like a dream coming true to get to the final and we thought that the referee was taking that dream away from us."
Recalling the most memorable episode of his career, Gomes said that the 2006 World Cup game against Angola was a special match for him as some of his Benfica teammates made their first World Cup appearance for Angola.
"I was on the bench in the first game and I knew that I wouldn't play. But I was happy to participate because Angola played against us and Angola is Portugal's ex-colony. I don't know whether it was their first World Cup appearance, but I believe it was. And two or three players of Angola were my teammates in Benfica and I was happy to be there in that historic moment for them."
Assessing Portugal's chances to win the 2018 World Cup in Russia, Gomes said that he sees his country among the top five candidates to clinch the trophy.
"I hope so [that Portugal will win the World Cup], I will pray for that. But if I should bet on one team only, I don't know whether I would bet on Portugal for historic reasons. For example, we won last year's championship [Euro 2016] and I think nobody believed that Portugal would win it. On the one hand I think it's good not to be an outsider, I hope that Portugal will be confident at the tournament and will repeat last year's success, when we were the favorites and we won the tournament. If you asked me to [name] five favorites, I would include Portugal."