'Sport has more active role than ever' - Arsenal's Wenger on World Cup, tension & football in Russia
Published time: 11 Apr, 2018 18:24
Edited time: 20 Apr, 2018 13:30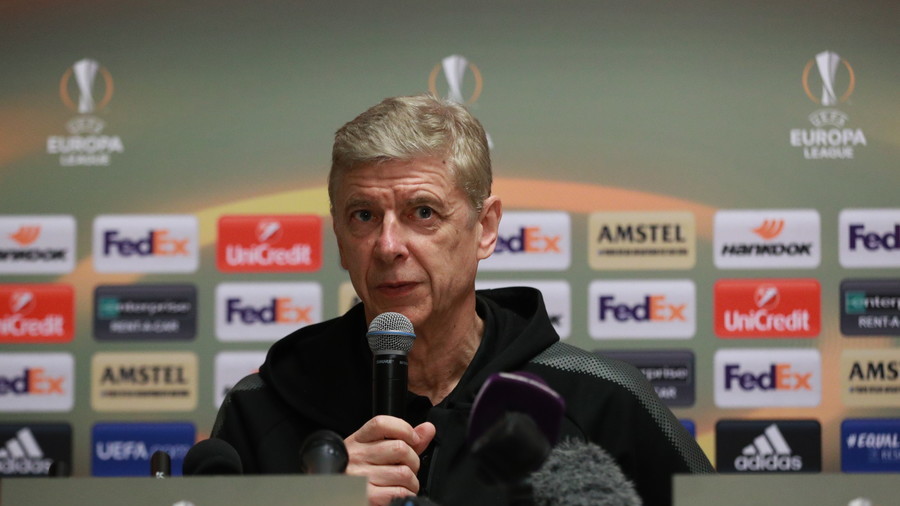 In a week when Western reports have claimed gangs of 'hooli-girls' are training to batter English football fans arriving in Russia, the biggest trouble facing Arsenal was finding their way to their Moscow hotel on time.
Flight delays from London to the Russian capital on Wednesday accounted for a one-hour hold-up to Arsenal manager Arsene Wenger's press conference, ahead of his side's Europa League quarter-final second leg against CSKA Moscow on Thursday.
When the English side finally arrived, they did so as favorites for the match after administering a stylish but devastating 4-1 drubbing to CSKA in the first leg in London last week. Wenger's side are also favorites to win the tournament outright.
READ MORE: 'It's of little interest what Boris Johnson thinks about Russia' – England manager Southgate
CSKA were caught cold in the first leg in London, going down to a heavy defeat. A wonder free-kick from wonderkid Aleksandr Golovin was the only thing for the few hundred traveling Russian fans to shout about amid slim a chances of progressing to the semi-finals.
Golovin's name has long been linked to Arsenal, with the North London club reportedly monitoring his progress for nearly two years. The midfielder, who is largely deployed as his team's creative spark in the center of the pitch, has six goals and four assists in 35 games this season.
Before last week's game at the Emirates, Wenger remained tight-lipped when asked about a potential €20 million summer move for the midfielder. On the pitch, Golovin let his feet do the talking, making sure whispers about his future would become shouts.
In regard to the 21-year-old, Frenchman Wenger said: "His performances are good. He is playing in the Russian national team so that means he is a strong player.
"When we played CSKA, they have two players in midfield who play for Russia, which means they are very good players. They have the best midfield in the country."
Golovin also played against CSKA's last English opponents in Moscow, Manchester United, when the two met in the Champions League group stage in September. Henrikh Mkhitaryan, who also played in that match, has since moved south to the Gunners, but will make no Russian return as he is struggling with ligament damage suffered in the first leg.
The midfielder has been ruled out of for the rest of the Premier League season. But the Armenian could still play in the Europa League final, should Arsenal reach that stage, something he did for Manchester United last season, scoring in a 2-0 final victory.
Arsenal's last meeting with CSKA in Moscow, back in 2006, resulted in a 1-0 win for the Russians, also by virtue of a free-kick. The home side will need to drastically build on Golovin's set piece away goal if they have any chance of progressing on this occasion.
Tuesday's European football saw Roma overturn a 4-1 deficit against Barcelona to advance to the semi-final stage. Arsenal defender Shkodran Mustafi was adamant that Arsenal would suffer no such complacency at the VEB Arena.
"You have to be very careful how you show up," the German said.
"I think the game that we saw yesterday was just the perfect timing for us that we have to be really focused and we are coming to finish off the job in the first leg."
Europa League glory is Arsenal's sole chance of ending the season with silverware. The team's fans are often cynical of cup success in the absence of a league title, something that has eluded them for 14 years.
Arsenal currently sit sixth in the Premier League, 30 points behind leaders Manchester City. Wenger however avoided the question whether success in Europe's second competition will secure his job for another year.
"We are at a stage where we focus on [winning the Europa League]. We have very slim chance to get further up [the Premier League] and the Europa League is one of the big targets of the season now," the 68-year-old said.
The political landscape between the two teams' countries has undoubtedly darkened in recent times. The UK will diplomatically boycott the World Cup in Russia this summer after blaming Moscow for the poisoning of former spy Sergei Skripal, and some sections of Western media have taken advantage of the situation to question the safety of English fans at Russia 2018.
"I think on that front there will be no problem, when we come here we had no problem and I don't think that will affect the game, it's best for us to stay out of that," Wenger said.
Wenger on politic tension between UK and Russia: 'I don't think that will affect the game, it's best for us to stay out of that' #AFC

— Danny Armstrong (@DannyWArmstrong) April 11, 2018
"We had many Russian fans in London and there was no problem, why should it be different here?
"Sport can always play a positive role in life and between countries as well and that's why it is always a good opportunity to soften relations, and I'm convinced that tomorrow there will be no problem and the World Cup will perfectly well-organized. Sport now has a more active role than ever."
For the positive side of sport, and namely football, to take effect in easing tensions between the UK and Russia through football, Wenger must first break Russian hearts in the very heart of Russia on Thursday night.
By Danny Armstrong for RT Sport