'I dream of officiating at the World Cup!' Russia's 'hottest referee' Ekaterina Kostyunina (PHOTOS)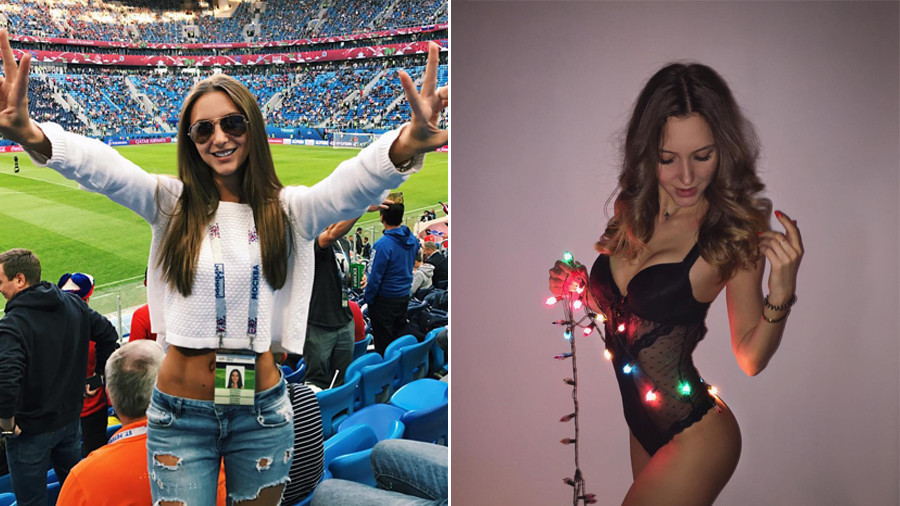 Russian referee Ekaterina Kostyunina made headlines when she was dubbed the country's 'most beautiful football official,' and the 22-year-old has expressed her dreams of one day officiating at the World Cup.
The Russia 2018 tournament is just weeks away with teams, players, and officials completing their final preparations before the festival of football this summer, which will be held in 12 host venues in 11 host cities from June 14 to July 15.
Kostyunina, who became famous as the ref with the raunchy Instagram photos as much as for her on-field officiating, says her goal is to one day appear on the world's biggest football stage.
READ MORE: Hottest Russian whistleblower? Meet Ekaterina Kostyunina, football referee (PHOTOS)
Hailing from the small town of Krasnoyarsk in central Russia, Kostyunina says that her passion for football began at school before being asked to referee by chance and deciding to "devote her life" to enforcing the laws of the beautiful game.
Although she remains a fan of local FC Yenisey Krasnoyarsk, Kostyunina also has affiliations with English football – but, as she tells RT, her loyalties remain close to her homeland as regards the World Cup.
RT: Ekaterina, you have made headlines as 'Russia's most beautiful referee.' What first attracted you to football and when?
Ekaterina Kostyunina: I played football with my school classmates after lessons, and later I was invited to join a women's team. Then I received an offer to referee a couple of matches. I really liked it and I decided to devote my life to officiating.
The World Cup 2018 will take place this summer in Russia. Do you dream of one day refereeing at the World Cup?
Maybe, but it's such a huge responsibility. Right now, it's just a dream! To earn the chance to officiate in such matches, you need to go down a long and hard road, whereas my journey has only just begun.
Many Russian football fans enjoy watching the English Premier League as well as Russian football. Do you have a favorite English team or a favorite English player?
I watch English Premier League matches. I don't have a favorite team, although I used to support Manchester United. From the Premier League players, I can single out Harry Kane as my favorite.
The World Cup begins on June 14. Do you plan on attending matches at the tournament?
Yes, I'm planning to attend matches. It's a brilliant event not just for our country but for the whole world. A real celebration of football, which brings us all together! I still am really impressed from when I went to matches at the 2017 Confederations Cup last summer. I'm really looking forward to the World Cup 2018!
How do you think the Russia national team will perform at their home World Cup?
I have belief in the Russian team, 'Sbornaya,' and as a patriot of my homeland I'm hoping for the best results. I am sure that they will advance from the group stage.
In the event that Russia does not advance from the group, who will you be supporting?
If Russia does not get out of the group, advance from the group stage, firstly, I will be really upset! I like how Germany play and their style of football. I was at their matches at the Confederations Cup.
World football governing body FIFA announced that the Russia 2018 World Cup will be the first to feature Video Assistant Referee (VAR) technology. The system has split opinion among fans, with many questioning its reliability.
Should Kostyunina achieve her dream of making it to the World Cup, her inclusion would perhaps be one official decision-making addition that would be met with no such resistance.
By Danny Armstrong for RT Sport