Mayweather announces he will apply for MMA license, UFC fight a possibility
Published time: 19 Mar, 2018 10:51
Edited time: 18 Apr, 2018 14:59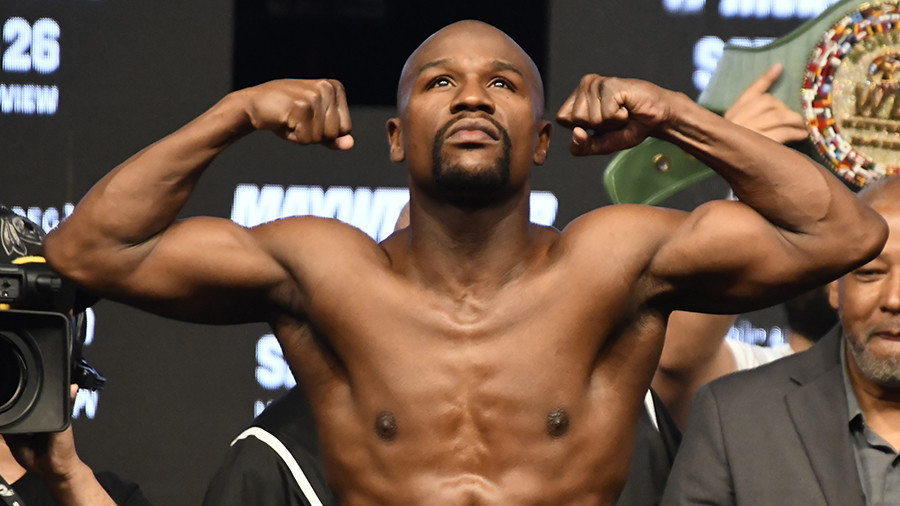 Boxing superstar Floyd Mayweather Jr. has announced he will "eventually" apply for an MMA license, which could precipitate a fight in the UFC octagon.
Mayweather, 41, has not entered a combat ring since stopping UFC poster boy and boxing debutant Conor McGregor in the 10th round of their crossover boxing match last August in Las Vegas.
"Everything takes time. Eventually, we're gonna apply for the license, and hopefully we can fight," Mayweather said to TMZ Sports.
"Even if [training for a fight] takes 6 to 8 months – whatever it takes. We want to make sure that everything is done correctly, and everything is done the right way," Mayweather said.
Rumors emerged that Mayweather would enter the MMA arena when the five-weight world champion posted a video to Instagram in which he limbered up in an Octagon at his training headquarters.
The former pound-for-pound boxing champion also announced last week he plans to begin training with UFC welterweight champion Tyron Woodley soon.
Mayweather even took time to rate his skills needed to compete in MMA, saying
"I can wrestle. My wrestling game is not that bad. On a scale of 1 to 10, it's probably a 7. And I think we can take it up to a 9 if possible. Of course, my hand game, 1 to 10, is 100. My kicking game, on a scale of 1 to 10, is probably a 4."
READ MORE: 'This is my buddy!' Boxing legend Mayweather and Chechen leader Kadyrov talk Russian citizenship