One-handed MMA fighter eyes UFC contract after latest victory
Published time: 12 Mar, 2018 15:25
Edited time: 11 Apr, 2018 13:57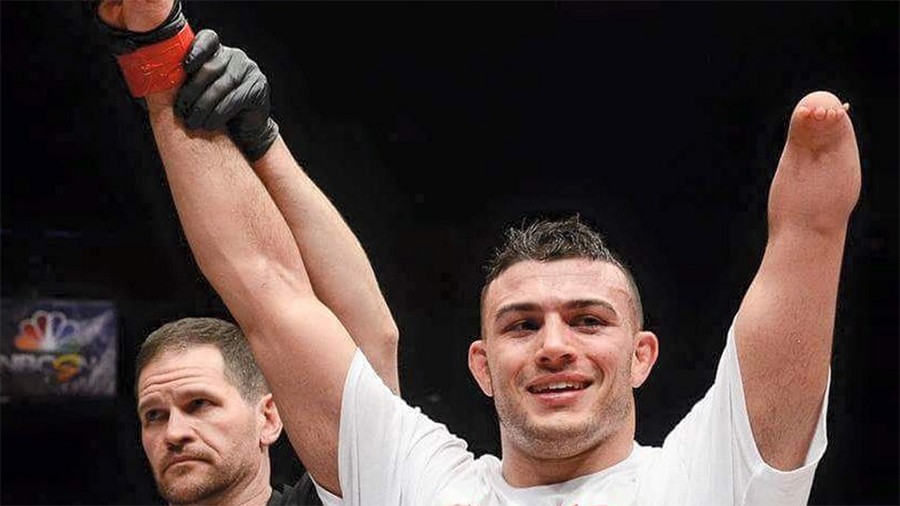 One-handed MMA fighter 'Notorious' Nick Newell has called for a shot at the Ultimate Fighting Championship (UFC) after recording a victorious comeback to the cage at Legacy Fighting Alliance 35 in Texas last Friday.
Newell, a congenital amputee and lightweight fighter from Connecticut, took a break from the sport in 2015 after compiling a 13-1 record. Last week, the 31-year-old athlete came out of retirement to dispatch opponent Sonny Luque in the first round to improve to 14-1.
After his impressive victory, Newell voiced his intention to fight at the highest level of mixed martial arts, looking into the camera and shouting "UFC, I'm coming baby!" During his post-fight interview, Newell again expressed willingness to be accepted into the UFC.
"Life is a cold, hard place. It will chew you up and spit you out," he said. "But if you make it your bitch, you can do anything. You can either become a victim of circumstances or you can create your own. I'm out here, I'm creating my own circumstances," Newell told MMA Fighting.
"I'm one of the best fighters in the world and I belong in the UFC. That's it. That's final. I gave you 14 reasons why I belong in the UFC. I'm one of the best fighters in the world and I proved it 14 times," he added.
Newell's only loss came at the hands of the UFC's 6th-ranked lightweight contender Justin Gaethje in a World Series of Fighting match in July 2014.
Despite an impressive win-loss record Newell's prospects of joining UFC remain in doubt as five years ago, UFC president Dana White refused to accept him into the promotion, saying that "It's hard to fight [in the UFC] with two arms."
READ MORE: Greek football match abandoned after gun-toting owner storms pitch to confront referee
A number of MMA observes who spoke in favor of introducing Newell to the sport's top promotion remembered that White was initially against bringing women's fighting to the Octagon. But in 2012 White allowed Ronda Rousey to enter the UFC, which now has four women's divisions.