Greek football match abandoned after gun-toting owner storms pitch to confront referee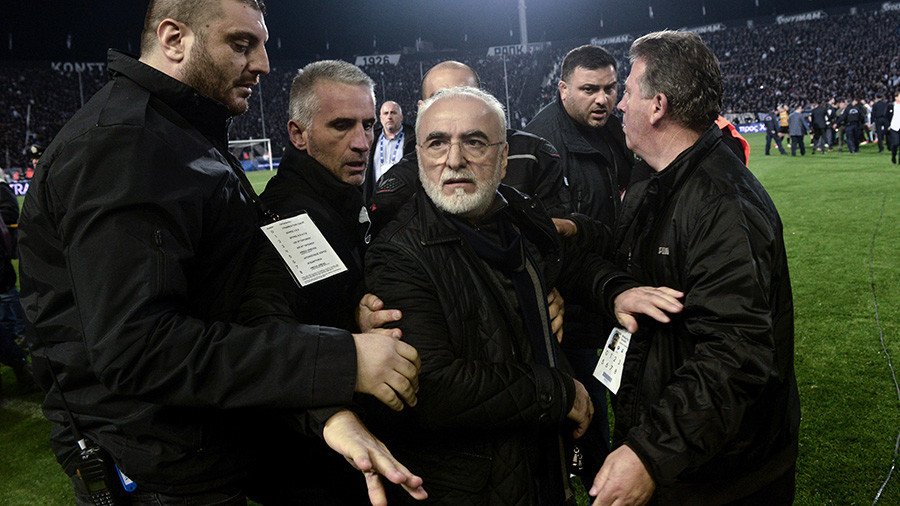 The Greek Superleague match between PAOK FC and AEK Athens was abandoned Sunday after PAOK owner Ivan Savvidis stormed the pitch armed with a gun after the referee disallowed his team a goal.
The game was tied at 0-0 when PAOK's Fernando Varela netted a goal in the 90th minute to give his team the lead. However, referee Georgios Kominis disallowed the goal, ruling that the player was offside.
The decision sparked chaos on the pitch at Toumba Stadium; PAOK players remonstrated with Kominis over his decision to deny a goal, which would have seen their side move to just two points behind league leaders AEK.
Matters intensified when PAOK owner, Greek-Russian billionaire Ivan Savvidis, marched on to the field twice, accompanied by bodyguards. The second time, the Georgian-born businessman took off his coat to reveal he was carrying a pistol in his belt buckle.
AEK officials claimed that Savvidis threatened the referee during the first time he came onto the pitch before being pulled away. AEK coach Manolo Jimenez told Spanish radio that Savvidis intimidated Kominis saying that his "career as a referee has ended."
AEK players walked off the field and refused to complete the match citing safety concerns after the fracas. The match was declared 0-0 and will not be replayed, given the time that had passed when the match was abandoned.
Tobacco tycoon Savvidis, who bought PAOK in 2012, is one of Russia's wealthiest men. He released a statement addressing the incident and calling on fans of the club to "become the shield protecting the club against any provocation."
"Dear friends, I am addressing those who are genuinely concerned with the fate of our beloved PAOK. We all witnessed the way our opponents try to turn every single minor incident against us," the statement reads.
"I call upon you all, everyone who has ever loved our black and white colors, to become the shield protecting the club against any provocation. Please remember: PAOK's honor is in our hands and our strength lies not just in our unity, but also in our capability to control our emotions and refrain from actions that could be used against our team.
"Besides, remember that we used to stand united against any external threat in the past as well, supporting our club just with our strong voice.
"I continue to have faith in us and the Greek justice system and I will continue to do everything in my power, in order to protect PAOK's legitimate interests. I thank you in advance and I am counting on your understanding."
READ MORE: Eye in the sky: Russia 2018 World Cup venues as seen from satellite (VIDEO)
Kominos will reportedly send a match report to the Greek Football Federation, which will decide whether to penalize teams or individuals involved in the incident.
The result of the match means AEK tops the Greek Superleague table with 55 points, Olympiacos sits second on 53 points, while PAOK is in third place with 50 points.
Following the incident, the Greek Super League was suspended indefinitely on Monday evening. Greece's Deputy Sports Minister, Giorgos Vasiliadis, announced the abandonment of all top-flight matches after a meeting with Prime Minister Alexis Tsipras.
"It won't start again unless there is a clear framework, agreed by all, to move forward with conditions and rules," he added, BBS Sport reported.
Local police have also issued a warrant for Savvidis' arrest. World football governing body FIFA condemned the incident but said any disciplinary measures "fall under the jurisdiction of the Greek FA".
You can share this story on social media: