PyeongChang 2018 opening: Russian ban, protests & political games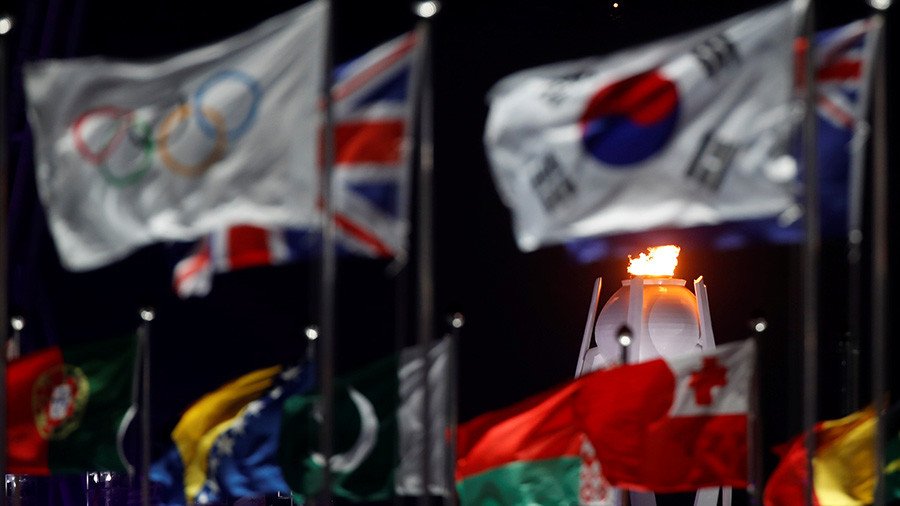 The Russian Olympic ban and political protests in PyeongChang have marred the 2018 Winter Olympics opening ceremony, which was aimed at promoting harmony, passion and peace throughout the world.
On Friday morning, just hours before the Winter Games opening ceremony, the Ad Hoc Division of the Court of Arbitration for Sport (CAS) rejected Russian athletes' appeals challenging their non-invitation to PyeongChang.
The top sports court announced that the International Olympic Committee's (IOC) approach of approving Russian participants for the Games "was designed to balance the IOC's interest in the global fight against doping and the interests of individual athletes from Russia."
The judges of the panel dismissed applications filed by two groups of Russian athletes, stating that the Olympic invitation was not carried out in "a discriminatory, arbitrary or unfair manner" and "could not be described as a sanction but rather as an eligibility decision."
As a result of that decision, 47 Russian team members – including six-time Olympic short track skating champion Viktor Ahn and Sochi gold medalist in biathlon Anton Shipulin – were barred from the upcoming Games despite never failing a doping test.
A reduced delegation of Russian athletes participated in the PyeongChang opening ceremony under the name Olympic Athletes from Russia, as all national symbols including the flag and coat of arms were banned by the IOC as punishment for the country's alleged doping violations.
READ MORE: 'Double standards are unacceptable': Russian State Duma reacts to CAS ruling over Olympic ban
Other issues also distracted from the ceremony, including protests by approximately 800 people who gathered in front of the Olympic stadium bearing South Korean and US flags. South Korean activists were seen singing patriotic songs and tearing apart portraits of North Korean leader Kim Jong-un, in protest of North Korea's participation at the Games.
Many protesters reportedly held posters referring to Kim by the Donald Trump-devised nickname of "mad little rocket man."
Earlier, the two Koreas agreed to march together under a unified Korean flag at the ceremony, reflecting an idea of reunification which was not overwhelmingly supported by South Koreans.
North Korea's delegation at the Games amounted to 500 people, including Kim's sister, Kim Yo-jong, who came to the South to attend the opening ceremony. The arrival of senior North Korean officials was not welcomed by right-wing protesters, whose active demonstrations resulted in clashes with police.
On Thursday, PyeongChang also saw another protest over the arrival of a North Korean orchestra which had arrived to perform at the Games. The ferry carrying 140 band members was met by South Korean activists holding flags and banners reading "No Pyongyang Olympics!"
You can share this story on social media: