Russian female biathlon team shows off twerking skills in support of air cadets (VIDEO)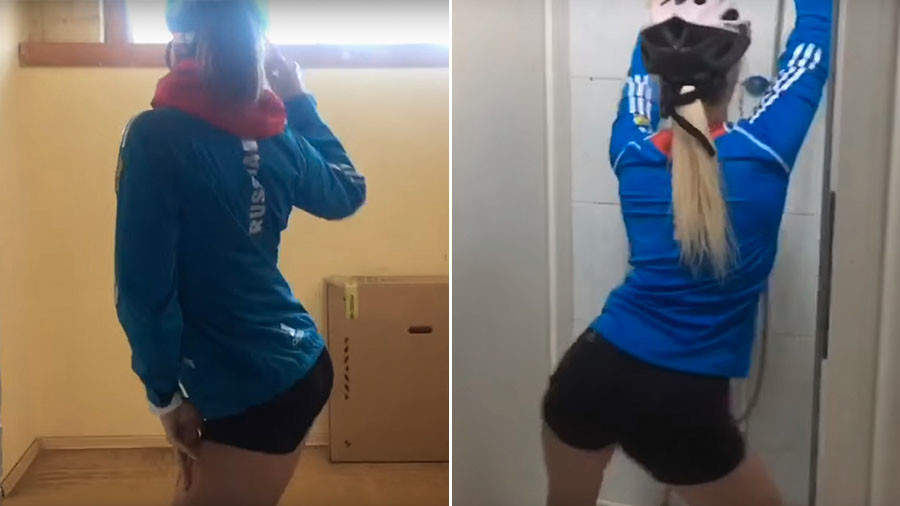 Russian female biathletes have posted a video showing them twerking, in support of the cadets of an aviation institute in Ulyanovsk who recently came under fire after releasing a controversial parody video based on a dance hit.
Biathlon team members danced to the popular song 'Satisfaction' by Benni Benassi at their training base, recreating the initial clip made by male first-year students of Ulyanovsk Civil Aviation Institute.
The two-minute video shows 10 girls, whose faces are hidden under sunglasses, imitating their training process in a suggestive manner. Some athletes are seen doing physical exercises, while others are preparing their equipment, including skis and poles. A third group are seen cleaning their room with a mop and a duster.
Last week, the video filmed by the Russian cadets sparked controversy on Russian social media, with some users even calling for the students to be expelled from the university.
In the clip, titled 'How pilots entertain themselves between flights', dozens of half-naked young men wearing pilot caps and BDSM costumes dance to the 'Satisfaction' song in the university's dormitory.
The video was treated by many as an inoffensive joke, but was met with furious reactions from the university's administration, who promised to punish the students for "insulting the veterans of civil aviation."
However, others rallied in defense of the future pilots, insisting that they had done nothing to be punished for.
Medical workers, school teachers, housewives, TV hosts and many others produced similar videos participating in the #SatisfactionChallenge, which was launched in support of the Ulyanovsk cadets.
You can share this story on social media: