Russian air cadets in hot water after stripping off for music video parody (VIDEO)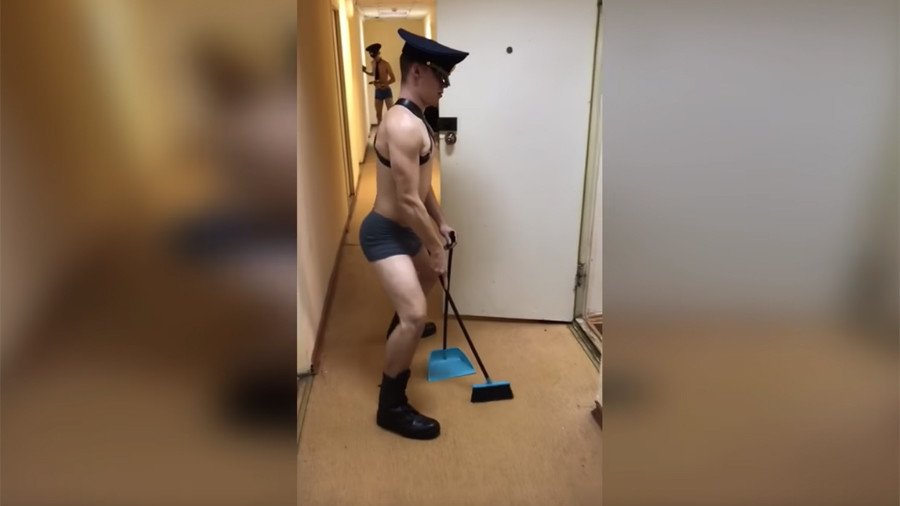 A tongue-in-cheek music video produced by cadets of a Russian aviation institute has landed the authors in hot water. The gay BDSM-themed video was apparently too much for the conservative-learning organization.
The video, uploaded on YouTube on Monday by user Aleks Jigurdinski, shows muscular young men dressed in underwear and occasional accessories like ties and leather straps dancing to the tune of 2002 hit 'Satisfaction' by Italian DJ Benni Benassi.
The actors twerk, eat bananas, hug each other and otherwise mimic the original music video, which features a highly-sexualized all-female construction crew. The amateur video was apparently meant as a 'Not Safe For Work' joke, considering that it was placed in the 'humor' category and flagged as age-restricted on YouTube. It has since been removed by the video-hosting service for violating terms of use.
The video was reported to the management of the Ulyanovsk Institute of Civil Aviation (UIGA), on the campus of which the video was apparently filmed. An investigation was launched into the "appalling clip," according to a local media report.
"I have worked here for 20 years and this is the first such case. What a shame! We invest so much into people, and this is how they behave," said Petr Timofeev, the head of the campus administration department of UIGA.
The institute, the oldest in Russia training professionals for civil aviation, is in Ulyanovsk, a large city in central Russia about 700km east of Moscow.
You can share this story on social media: