Philippines volcano alert raised to 'critical,' eruption possible 'within days' (PHOTOS, VIDEO)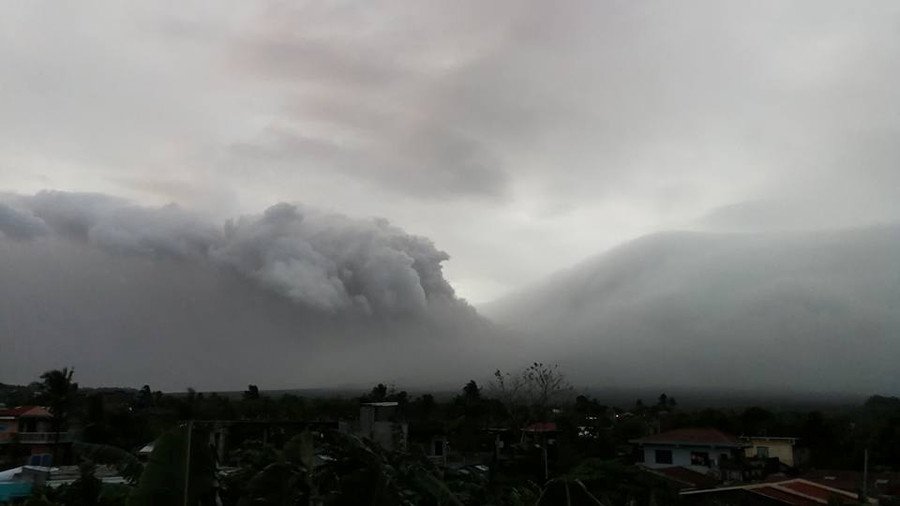 The Philippines has raised the alert level for the Mount Mayon volcano to level 3, which is considered "critical." The country's volcanologists have warned a hazardous eruption is now possible "within weeks or even within days."
The volcano has been spewing ash into the atmosphere for the past two days and showed a bright crater glow on Sunday, forcing the Philippine Institute of Volcanology and Seismology (Phivolcs) to issue a level 3 alert for the 2,462-meter high mountain.
READ MORE: Volcanic ash triggers evacuation in Philippines, 'hazardous eruptions' feared (PHOTOS)
"Mayon's summit crater is now exhibiting bright crater glow that signifies the growth of a new lava dome and beginnings of lava flow towards the southern slopes," Phivolcs noted.
"This means that Mayon is exhibiting relatively high unrest and that magma is at the crater and that hazardous eruption is possible within weeks or even days."
Some 3,000 people have already been evacuated from nearby villages over the weekend, while locals and tourists are being advised to stay away from the summit. As the agency continues to monitor the volcano's activity, its chief Renato Solidum said the danger zone around the crater may be expanded beyond the current six kilometres if it shows further unrest.
Mayon is the Philippines' most active volcano, located in central Albay province, which last erupted in 2014. Its 1814 eruption killed between 1,200 and 2,200 people in the town of Cagsawa.
You can share this story on social media: