'Hearing the whistle, knowing we're champions is the best' – Sergio Ramos talks World Cup glory
Spain and Real Madrid captain Sergio Ramos has spoken to RT on leadership duties, the moment La Roja became world champions and why the magic may be returning to the dormant Spanish national side
Sergio Ramos García began his career at hometown club Sevilla, in Spain's southern autonomous region of Andalucia, before catching the eye of giants Real Madrid and making the move to Estadio Santiago Bernabeu. There, he has gone on to win four La Liga titles and three Champions Leagues with the club from the Spanish capital. Real enjoyed a great deal of success in the European Cup, forerunner to today's Champions League, and the fans count on from those former glories by referring to said Champions League titles as 'La Decima', 'La Undécima' and 'La Duodécima.'
READ MORE: 'I promised my father I'd win the World Cup'– Pelé recalls remarkable life in football
The Andalucian also played an integral role in a period of unprecedented and sustained Spanish success in the international arena. The national side claimed two European Championship titles in 2008 and 2012 as well as the 2010 World Cup in South Africa, the pinnacle of Spanish football history.
Now Ramos will guide the Spanish side into Russia 2018 as captain. In an exclusive interview with RT's Stan Collymore, Ramos says that any pressure of taking over the club captaincy at Real Madrid was alleviated by the prospect of a "beautiful challenge" to lead his beloved 'Los Blancos.'
Stan Collymore Show, Sky channel 512, Freeview 234,Freesat 206 at 1:30pm/5:30pm and 8:30pm this evening.El Capitan @SergioRamos joins me in Madrid, we join football legends at London's Russian Embassy to celebrate the World Cup & go backstage at last week's Merseyside Derby! pic.twitter.com/KgjgAKqmIH

— Stan Collymore (@StanCollymore) January 19, 2018
"I felt very good about taking over as captain and I don't think it's pressure, but quite the opposite," Ramos admited.
"I think of it as a beautiful challenge to face after sharing many experiences at Real Madrid as well as the national team. And now the opportunity to wear the armband and be the leader of the national team and Real Madrid, for me it is a unique privilege."
"I don't know how my teammates see me, but it is true that I try to lead in the best way possible. I try to be honest and help my teammates, but above all, be truthful and when it comes time to be a leader, I think you have to be the one willing to step forward.
"In order to be able to demand something of your teammates, one has to lead by example and I think that, through the years, I have been taking the best from each captain I've had and now I have developed my own style which is based on my character, my feelings and my insight."
Ramos was at the heart of defence as Spain established themselves at the epicentre of world football a decade ago. The team powered their way to a 2008 European Championship, the two years later won the country's first ever World Cup in 2010. That was followed up by recapturing the European Championship in 2012 – becoming the first national side to do so.
READ MORE: Gary Lineker reveals his World Cup highs & heartache at Italia '90
A mercurial golden generation of Xavi, Andres Iniesta, Gerard Pique, David Villa, Fernando Torres, Sergio Busquets, Carles Puyol, Iker Casillas, and Xabi Alonso provided the team with a blend of experience and youthful zeal responsible for their country's greatest footballing achievements in just four short years.
But their dominance did not carry on from their maiden World Cup win. At the 2014 tournament in Brazil, the Spanish side crashed out at the group stage, having been humiliated 5-1 by the Netherlands in their opening game.
Redemption was not found at Euro 2016 either, as despite reaching the Round of 16 Spain were eliminated by a strong Italy side, in Ramos's first tournament as national team skipper.
Nevertheless, since then Spain have done what neither the Dutch nor the Italians could by qualifying for Russia 2018.
Ramos believes today's Spanish side, which he considers the equal of the 2010 World Champions, will make for interesting viewing going into Russia 2018 this summer.
"I think [the team]'s different [to the 2010 World Cup winning team]. I don't think it's either better or worse. I think we played for the national team during its best time in history. We had an amazing team of players, a mix of veterans and young ones, including myself, who had just started playing for the national team," Ramos said.
"We experienced a unique moment, we created a game style, a philosophy. I think we brought ball possession style to the football world, the 'Roja' style that I think reached all corners of the globe with such power that it ended up winning the world over. And we enjoyed the best moment of our country, historically, and the victories are there: two European Championships and a World Cup. Now, after a long time, a new era begins. Several players have left the national team but we, the ones who were young then, are now veterans.
"Here comes generation of young players of great quality with great ambition and the desire to win titles. The same style we had, but with different players, all pushing in the same direction. I think Russia will be the first difficult test that this new national team will face and I believe we will play a big role."
Ramos captained Spain in their enthralling 3-3 draw with Russia at the St. Petersburg Stadium on the city's Krestovsky Island, a state-of the-art area that will function as one of the 12 World Cup host venues. On the subject of the hosts' participation, Ramos expressed hope that Russia will progress as far as possible, and complimented the nation's quintessential warm welcome whenever he has played on Russian soil.
"Well, we don't have to play against [Russia] in our group, but I think that when one plays at home, backed by their country, one always has a higher responsibility. It is a plus and it gives extra motivation which will shine through. I wish the Russian team the best because when we have played there, they have always given us a friendly reception. But I only wish them well until we have to cross paths, if we ever do," Ramos said.
Regarding his own standout career, which has seen him win every major title at every level of football, the Spaniard unsurprisingly has a hard time singling out an achievement that defines his career thus far. However, there is one moment that will live with Ramos until the moment he hangs up his boots.
"I think the best moment was when we heard the final whistle and knew we were World Champions," Ramos beams, as if reliving that instant. "When you play football you know that when a game ends the big screen goes black and it reads game over, meaning there's nothing else. There are very few sensations that can compare to what it feels like being World Champion of a team sport.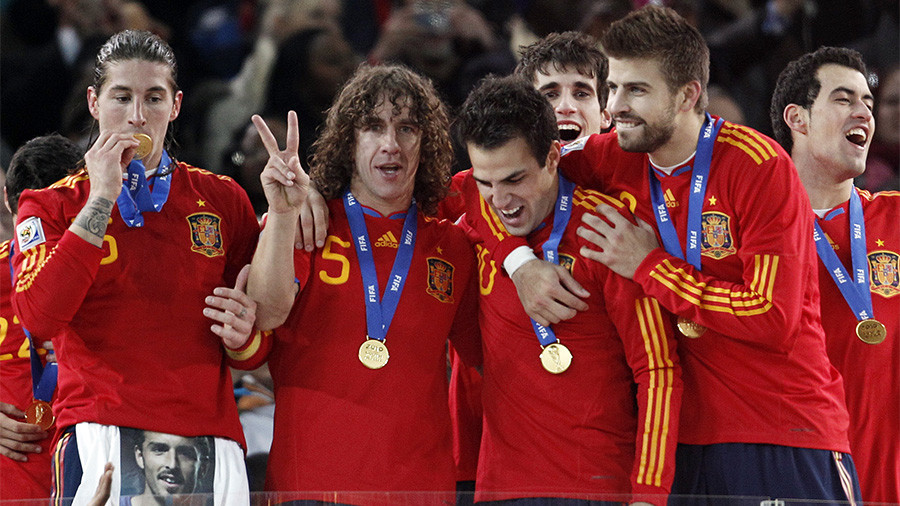 "I think that moment has stayed with me, when you lift the cup and perhaps another moment that also caught my attention was being welcomed (back form the World Cup) in Madrid. Being on the bus, going down the Gran Via and the whole of Madrid filled with Spanish flags. It makes my hair stand on end because these are things that have not been experienced before and tomorrow I can say that I did experience that moment and I always have it with me."
Still only 31, there is every chance that this will not be Ramos' last World Cup finals. There is little left for the player to achieve, but his international future begins in Russia on June, and the player has outlined some goals in the game he has yet to accomplish.
"To date, I have very few things left to live when it comes to sports but as they say I have been fortunate to be the only team captain in history to hold two consecutive Champions Leagues, though I haven't been lucky enough to lift a World Cup as captain which is something that bothers me because it is unknown to me," Ramos said.
READ MORE: Messi, Suarez, Mourinho discuss World Cup & more with RT's Stan Collymore
When quizzed as to which he would prefer to win – a third Champions League on the spin or a second World Cup with Spain – Ramos offered an intriguing analogy to explain the difficulty of the decision.
"For me, both. It's difficult, but I think I have always been able to separate the two. If you are given a choice between a Champions League or a World Cup...fortunately I already have three Champions League and one World Cup. I mean I don't like to mix the two tournaments as I enjoy both in different ways. The love of your wife or the love of your child, right?" Ramos explained.
"I think you can't mix the two, but there are times when it's difficult to choose. Luckily the World Cup begins after the season ends so you can concentrate on your team. But both processes are equally unforgettable."
Ramos will now lead Spain into the World Cup, where he will face a familiar foe in their first game against reigning European Champions Portugal – current world's best player and Real Madrid teammate Cristiano Ronaldo, the Portuguese captain.
"Yeah. I believe it's going to be a very exciting game and highly anticipated as well because it is a neighbouring country and there's also this extra curiosity since Cris and I are captains," Ramos said.
"I think they are the ones to beat because they are current European Champions and that will make it a really nice match for football fans. We hope to win it because it would be very important to kick off the competition against the favorite."
You can share this story on social media: