'I promised my father I'd win the World Cup'– Pelé recalls remarkable life in football
Brazilian football legend Pelé has spoken to RT about his remarkable life and career in the game, including the touching moment when, as a young boy, he vowed to his father he would win the World Cup for the nation.
Arguably football's most iconic figure, Pelé saw a career that spanned more than 20 years, during which he scored more than 1,000 goals, including a record 77 in 92 games for the Brazilian national team.
His long list of honors includes three World Cup titles – Sweden in 1958, Chile in 1962, and Mexico in 1970 – and he played at four finals in all as part of some of the greatest sides ever to grace the game.
In an exclusive interview with RT's Stan Collymore, the Brazilian great, now 77, recalls how he vowed to his father he would win football's most coveted prize in the wake of the national team's stunning loss to Uruguay in the last game of their home 1950 World Cup, which deprived the Brazilians of the title.
The Stan Collymore Show on @RT_com 1:30/5:30/9:30pm on Sky 512, Freeview 234, Freesat 206.This week, I sit down with the one and only @Pele and I go in amongst Partizan and Red Star Ultras at the Derby.Enjoy! pic.twitter.com/AGWjwKKmBr

— Stan Collymore (@StanCollymore) December 22, 2017
"My father was a professional football player in Bauru, the city where I used to live," Pelé told Collymore.
"And then the World Cup [took place] in Brazil. I was just 10 years old, and I said, 'Oh my God, Brazil is the best football team, we are going to win the World Cup, we are going to be champions' and then Brazil lost.
"For the first time [in my life] I saw my father crying. He was with other players in my house to listen to the game, as at that time we didn't have TV. Then I saw my father crying. I didn't understand why he was crying, because I was always told that men don't cry. I said 'Father, don't cry. I'm going to win the World Cup for you, don't cry.' I said it to him just to make him happy, because it was a big surprise to me."
Pelé would make good on that promise just eight years later, when despite being a teenager he electrified the world at the 1958 tournament in Sweden – at which he scored a double in the final.
"[Sweden 1958] was my first traveling outside Brazil, we came there and nobody knew anything about Brazil," Pelé explained.
"Then one reporter came to me and asked me through an interpreter how was Buenos Aires. I said, 'listen, Buenos Aires is in Argentina, not in Brazil.' I was so mad. They didn't know in Sweden where Brazil was, they were confusing Brazil with Uruguay and Paraguay. I was mad. This was my first experience when I came there.
"When we won the World Cup I had to go outside to call my father and say, 'did you see? we won!,' as then we didn't have communications straight from the stadium… Can you imagine that today? It's quite a different world now. It was very important to me, I was 17 years old and it was my first World Cup. It opened the door of the world for me."
That success brought Pelé to the attention of the wider world, but also meant the precocious youngster was often a marked man – and he came in for particularly brutal treatment at the hands of opponents in both the 1962 and 1966 editions of the World Cup.
"At that time it was normal as every game was tough," he said. "The worst [championship] for me was in 1966 in England. Because in 1962 I played the first three games before being injured. And Brazil won the World Cup, and it was not too painful for me. And in 1966 I was injured again and I couldn't play, and Brazil lost the World Cup. I think the 1966 World Cup was the most difficult for me."
Despite the setback of Brazil failing to claim three World Cup titles in a row, the team bounced back in style in 1970 in Mexico – a team with such attacking flair it is widely regarded as one of the best to ever play the game.
That tournament is also remembered for the iconic image of Pelé and England great Bobby Moore embracing after the group stage game in Guadalajara, in which Brazil ran out 1-0 winners.
Answering Collymore's question on what "the iconic photo of friendship, competitiveness and respect" meant to him, Pelé said he and late England captain Moore had actually become friends after that moment.
"It's amazing, because we became friends after that. To me he was the best player. Because he was very tough but at the same time very honest. No doubt for me he was one of the best players."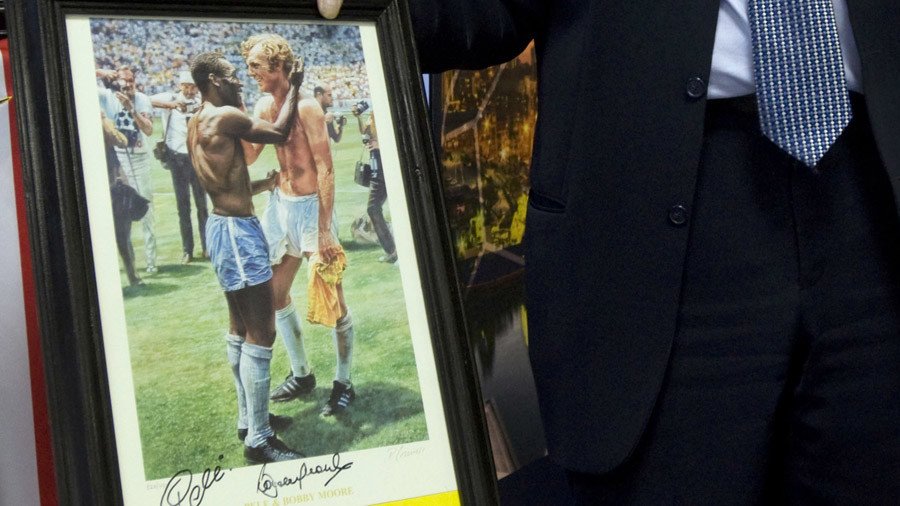 On whether the Brazil team of 1970 was the best to ever play the game, Pelé said considering the talent in the ranks, it should go down as at least the best ever to wear the famous yellow jersey.
"For me it was the best team from the four World Cups I played for Brazil. No doubt it was one of the best teams, but we have a nice history. Because you know, when we were preparing for the World Cup, our coach at that time, Mario Zagallo, selected forwards from Santos and Flamengo, he chose Rivelino from Corinthians and Gerson [from Sao Paolo], and the four players wore number 10. All the newspapers wrote that we couldn't work in one team, because we got Pelé, Rivelino, Gerson and Tostao all wearing number 10. But this was the best team in Brazil's history. It was a fantastic team.
"Of course I got number 10. No doubt, this was the best moment of my life. The 1970 World Cup was a big responsibility. I just said, 'God you gave all those victories in my life. I cannot say goodbye being defeated.' This was very difficult to me, because I took part in four World Cups out of which Brazil won three. This was my last World Cup, as I didn't have an idea to participate in one more World Cup, I wanted to say goodbye. And thanks God he gave us a victory."
Despite the huge respect Pelé enjoyed in Europe – as well across the wider world – there were rumors he was prevented from traveling to the continent to play at club level. The Brazilian great's career spanned 20 years at local team Santos, before a lucrative move to the New York Cosmos for his twilight years in 1975-77.
Asked if there was any truth to stories that Brazilian football authorities had prevented him from moving to Europe, Pelé admitted that there had been approaches from clubs, including Spanish giants Real Madrid and English club Manchester United, but that he had always "felt comfortable" plying his trade in his home country.
"The president of Santos came to talk to me and my father, saying that they [were contacted] by Real Madrid and Manchester United who had good offers for me. I didn't know exactly what they offered. And later we talked with my father, he asked me whether I wanted to play in Europe and I said that I felt comfortable in Brazil. Santos was the country's best club, we won two World Cups with the club. I didn't feel like [I want] to leave. Then I spent my entire career, almost 20 years, in Santos."
Given his advancing age, Pelé has been less of a familiar face at showpiece footballing events in recent years – although he made the trip to Moscow for the Russia 2018 World Cup Final Draw earlier in December, being pictured with President Vladimir Putin and fellow legend Diego Maradona.
Asked about his thoughts on Brazil's chances next year in Russia, as well as the team's star man, Neymar, the elder footballing statesmen was complimentary.
"Neymar is from Santos. My son Edinho, who worked with the juniors at Santos, coached him. When he left Santos I spoke with his father and he thought it was a great opportunity [for Neymar] to go to Barcelona. And he went there, to make a long story short, I think it was good for him to have that experience, because Barcelona always has the best players. Now he knows what he wants to prove. He wants to be the best player in the word.
"I think [Russia] will be very important for [Brazil]. I was talking a lot about what happened in my life. I wish to stay healthy to watch that World Cup. And if God listens to what I say, Brazil will be at least in the final."
Russia, and the wider football world, will certainly hope to see the great man at next year's World Cup.
You can share this story on social media: