'We'll fight to the last drop of blood' – Russia's cross-country skiing president on IOC ban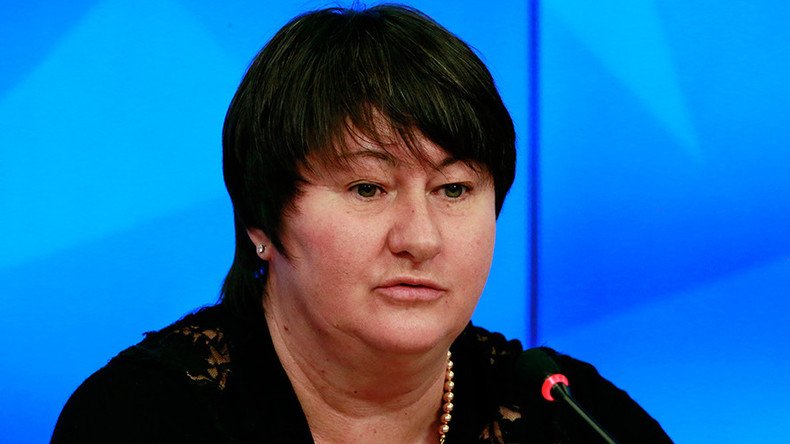 The president of Russia's Cross-Country Skiing Federation, Elena Valbe, insists her organisation will "fight until the last drop of blood" to protect the athletes who received life bans from the International Olympic Committee (IOC).
Six Russian skiers, including Sochi Olympic champion Alexander Legkov, and 3-time Olympic silver medalist Maxim Vylegzhanin were slapped with life bans by the IOC. They also had their results from the 2014 Sochi Winter Olympic Games annulled.
The decision further prohibits the athletes from participating in any future Winter Olympics, beginning with the 2018 Games in Pyeongchang, South Korea.
In an exclusive interview with RT, Valbe shared her views on the life bans of the Russian skiers and the chances of appealing the IOC's verdict at the Court for Arbitration in Sport (CAS).
RT: Can you describe the psychological state of the banned skiers? Were they mentally ready for the worst case scenario?
Elena Valbe: We have a saying in Russia: Hope is the last thing to die. Perhaps every skier secretly harboured hope that his or her case would be heard individually and a fair decision would be taken. Unfortunately, this didn't happen. Now the skiers are down, but we are united and this is our power. We will move forward and will fight till the last drop of blood. The war has just started, we have lost only a battle.
RT: Is it clear what the athletes have been punished for?
EV: We haven't yet received the full text of [the commission's] decision. I attended the IOC's meeting. It was immediately understandable that our athletes were charged with conspiracy and allegedly participating in a well-planned doping scheme. This moment, obviously, became the key factor in the doping charges.
RT:How high are the chances of overturning the IOC decision at CAS?
EV: We will try to complete everything before the Olympics. I don't want to make rash predictions, but justice must triumph. With due responsibility, I'm stating that none of our athletes participated in any doping manipulations ahead of the Sochi Games. No urine samples were taken beforehand. Moreover, in 2014, our skiers didn't win a huge amount of medals. The result, as displayed in Sochi, was practically the same as four years ago in Vancouver.
Now we are supported by a Swiss judiciary company. We have been cooperating with them from day one, when the accusations were made against our skiers. Together we submitted appeals to CAS. The lawyers' competence is beyond any doubt. Now salt was allegedly discovered in doping probes of the Russian athletes. So, additional examination is required.
RT: By contrast, the IOC cleared Russian figure skaters, but not skiers.
EV: Perhaps, in this situation, it's very important how the international federation behaves. Unfortunately, the International Ski Federation (FIS) also agrees that some kind of conspiracy took place. This opinion was taken into consideration by the IOC. As for doping in figure skating, as far as I know, there were no doping cases in that sport. Plus Adelina Sotnikova initially was not on [Grigory] Rodchenkov's 'Sochi list'.
RT: Do you think that the IOC's decision has a political undertone?
EV: Of course. They are attacking out strong spots. But when Russian people are attacked, we unite and become only stronger. It's a pity that it affects our athletes. I'm already on tenterhooks, but I'm sure that this will be over some day. We are obliged to win… Innocent people must not suffer. People's lives have been ruined. It took Legkov 20 years to win his medal, this is total lawlessness! How can you deliver such a verdict, when everything is built on the lies of just one man – Grigory Rodchenkov? He doesn't event try to think how he will live having such a burden. We repeatedly tried to contact him, but he doesn't want to answer any questions. He is seeking refuge in the US.
RT: How would you assess Russia's skiing team prospects at the Pyeongchang Olympics, taking into account the massive disqualifications?
EV: Last year we took part in the world championships without our key skiers and the performance was successful. The world meeting turned out to be the most successful [for the Russian team] in recent years. We have a strong team. All Russian skiers are preparing for the World Cup, including those who received "best wishes letters". Legkov is training along with other team members. Of course, the athletes who have been punished by the IOC, are not in a good mood. Though the trials have been held for 10 months, we immediately realized the fight would be difficult.
RT:What is your stance on Russia's possible participation at the 2018 Olympics under a neutral flag?
EV: That is not my prerogative. Unfortunately, I saw the collapse of the USSR and in 1992, I participated in the 1992 Winter Games as a member of the Unified Team/Commonwealth of Independent States (CIS) squad. Back then we participated under the Olympic flag. But this was a completely different situation. Now I think there is no need to go down that route. If we are travelling to South Korea, it should be under the Russian flag and the Russian anthem.
You can share this story on social media: