Date set for fight between Russian sports journalist & thug who punched TV reporter live on air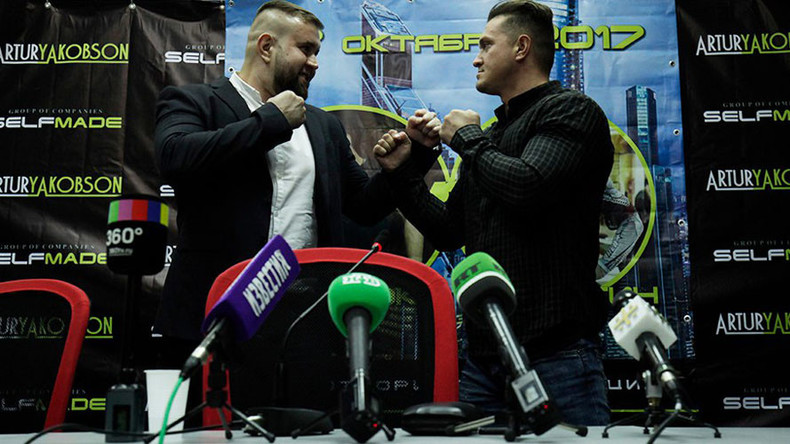 The viral video of a drunken thug randomly punching a TV reporter live on air in Moscow's Gorky Park in August has led to a boxing fight that is set to happen next Friday.
Video footage of the hooligan, later named as Aleksandr Orlov, randomly punching a TV reporter who was covering the Airborne Troops Day celebrations at Gorky Park outraged many people at the end of the summer – including Russian sports journalist Roman Chetin, who called out the thug for a fight shortly afterwards on his social media page.
"I've worked on TV for 10 years already. During this time I've heard a lot addressing the media and me personally," Chetin said back then.
"I've got something to reply with. I offer sparring. Representing all media against that bearded guy. We are in the same weight category. But I'm willing to gain about 10kg of fat of s*** to my head, so we'll be in equal positions," said the well-built Chetin.
"(Let's) organize the show, showman?! I'm sure you'll be shown on TV again. And the men will appreciate that you picked a more serious opponent," he added.
The reply from Orlov came shortly after. "I don't make a habit of rejecting this sort of offer! The challenge is accepted, good sir! See you later, playboy, meet you at Lobnoye (a name synonymous with former public executions)," said Orlov.
Today, the pair announced the time and place for the fight, which is set to happen under boxing rules at a fitness gym in one of the skyscrapers in the Moscow City area of the Russian capital on November 10, 8pm local time.
"I'm waiting for everyone who will want to support me," Chetin wrote on his social media page.
"I feel perfect. I have no injuries. I consider my fitness level to be competitive, despite the fact that I will be 20kg lighter. Right after the fight I am ready to get back to my main occupation - hosting celebration events," he added.
The organizers announced that the event will include four other fights, and that the entrance fee will be 1,500 rubles ($25).
You can share this story on social media: