New York City Marathon will be held as planned despite Manhattan terrorist attack
Published time: 1 Nov, 2017 14:14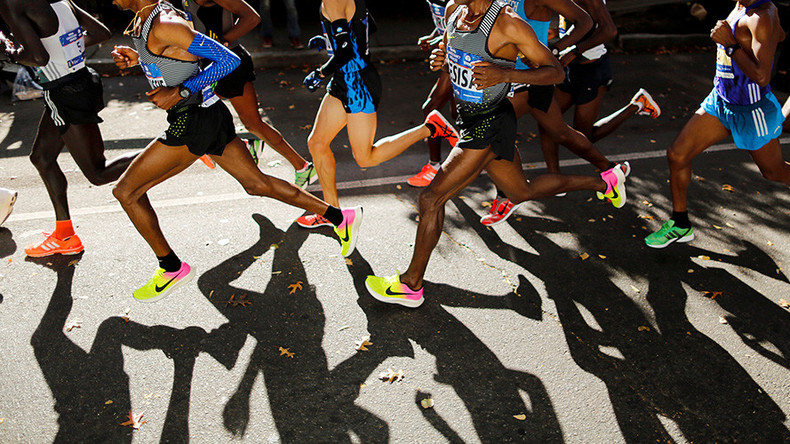 New York City Marathon officials say they have no plans to cancel or postpone the event – scheduled for Sunday – following the recent terrorist attack in lower Manhattan.
On Tuesday, a rental truck rammed into pedestrians and cyclists along a busy bike path near the World Trade Center in New York City, killing at least eight and injuring least another 12.
The marathon organizers, who postponed several media events scheduled for Wednesday, said that the tragic event will not affect the date and time of the race.
READ MORE:Trump orders 'extreme vetting' escalation in response to Manhattan terrorist attack
The New York Road Runners, the nonprofit host of the marathon, issued a statement on Tuesday expressing their sympathy to the victims and their families, adding that they plan to monitor the situation closely.
"New York Road Runners extends our deepest sympathies to the victims, their families, and all who have been affected by the tragedy in Lower Manhattan. We are monitoring the situation closely with our city, state, and federal agency partners, particularly the NYPD. For this weekend's marathon, as with all of our events, the safety and security of our runners, staff, volunteers, and spectators is our top priority. Together with our agency partners, we have extensive safety and security measures in place, both visible and behind the scenes. We are constantly reviewing our plans with law enforcement and will consider any necessary modifications or enhancements."
Approximately 50,000 runners are expected to take part in Sunday's marathon, which begins on Staten Island and stretches through all five boroughs. People planning to participate in Sunday's race say the tragic accident will not prevent them from being involved in the event.
Security procedures were also intensified at the 2001 New York City Marathon, which was staged less than two months after the 9/11 terrorist attacks. Similar measures were put into action after the 2013 Boston Marathon tragedy.
Many New York-based sports teams have expressed their condolences to the victims and families of those affected by the attack.
The NBA's New York Knicks tweeted: "Tonight, our thoughts are with those who lost their lives & loved ones to this terrible tragedy. #NYCstrong today & every day"
The NHL's New York Rangers honored the victims of the terrorist act with a minute of silence before the game against the Las Vegas Golden Knights on Tuesday.
The Rangers team members also expressed their support and condolences to the families of the victims who perished in the terrorist attack in Manhattan.
"There was a lot of emotion in our dressing room before the game tonight with what happened today in TriBeCa and a lot of our players live around there and they saw firsthand last year what the police and first responders do" the head coach Alain Vigneault said right after his team's 6-4 win over Las Vegas.
Rangers goalkeeper and Olympic champion Henrik Lundqvist said "It was emotional for me before the game. I talked to the group a little bit about the importance of the game. For me, my family is in that area every day and coming to the game not knowing if they were safe or not, it was not a good feeling."