Colin Kaepernick Halloween costumes this year's trend? (PHOTOS)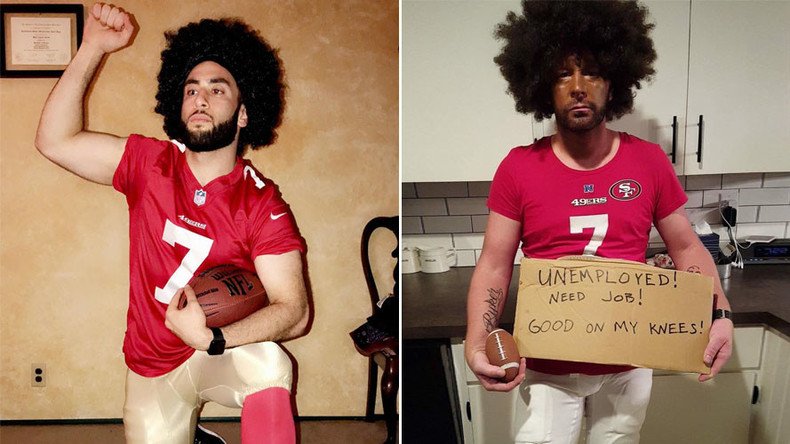 As the wave of national anthem protests continues to grow in the National Football League (NFL), the player who started it, Colin Kaepernick, seems well on his way to becoming a popular culture character.
When Kaepernick, then a quarterback at the San Francisco 49ers, refused to stand for the national anthem at the beginning of the 2016 season, amid largescale US protests at alleged police brutality, he probably didn't anticipate the impact his actions would have.
Now, at the end of October of 2017, most NFL teams have a number of players protesting during the pre-game national anthem ceremonies, and the issue has become one of the most discussed topics in the US media – as well as among the country's political elite, including President Donald Trump.
Trump has been vocal on the issue in the past month, making the NFL protests the second-most popular topic on his Twitter account.
Bearing in mind the effect of Kaepernick's actions, he has unsurprisingly becoming a popular culture figure.
San Francisco 49ers jerseys with number 7 on the back were among the best-selling NFL merchandise last season, and still remain among the hottest items, despite Kaepernick no longer being at the team.
It has also been reported recently that the former NFLer has also signed a million-dollar book deal.
READ MORE: Colin Kaepernick 'signs $1mn book deal'
None of this appears to have passed people by as Halloween arrived. Judging by social media activity, parties across the US this year are set to see a large number of people mocked up as Kaepernick, complete with Afro-wigs and number 7 jerseys.
However, not all of those dressing up as the player are doing it to show support for the Wisconsin native quarterback, who is currently not signed to any NFL team.
Last weekend, University of Nevada, Reno Police Chief Adam Garcia had to publicly apologize for one of his officers, who had appeared in a photo dressed in a wig, a painted-on beard, a false nose and a sign that read: "Will stand for food."
"For those who have seen the Halloween costume of one of our officers apparently mocking a citizen who has chosen to take advantage of his constitutional right to protest, I offer my sincere apologies," Garcia said.
One Instagram user also posted a photo of a man obviously impersonating Kaepernick with a paper sign that read: "Unemployed! Need Job! Good on my knees!"
You can share this story on social media: