Anti-Semitic Anne Frank stickers appear in Germany in copy of Lazio ultras' behavior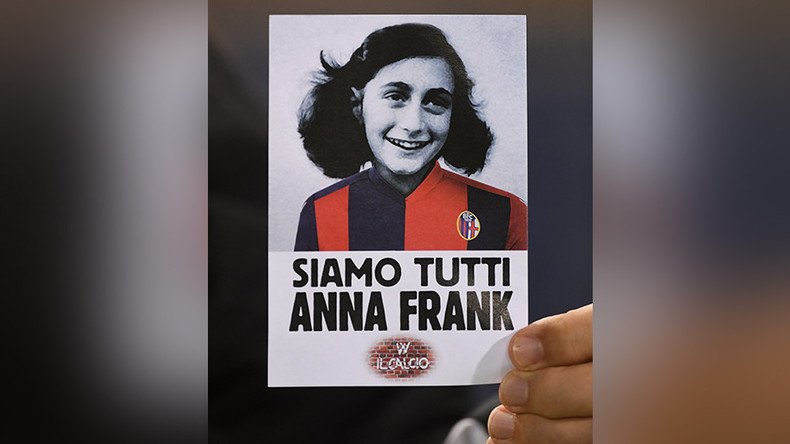 German football ultras have posted anti-Semitic stickers depicting Anne Frank wearing the jersey of top flight club FC Schalke 04 in an apparent copy of recent behavior by hard-core supporters of Italian team Lazio.
The stickers emerged in Düsseldorf, around 45 minutes from where Schalke play their home Bundesliga games in Gelsenkirchen. German sports blog Ruhrbarone reports that the hooligan element of Borussia Dortmund fans is most likely behind the items.
Elsewhere, more stickers appear to have been disseminated by fans of Lokomotive Leipzig, a club that plays in Germany's amateur fourth tier, which illustrated Anne Frank in a Chemie Leipzig shirt. Regionalliga side Lokomotive released a statement distancing itself from the behavior.
"No to anti-Semitism. No to fascism. We stand for openness, tolerance and fairness – since 1893!" the statement read.
"Stickers with anti-Semitic messages are currently doing the rounds in Europe. Now, some individuals are obviously trying to associate them with our beloved club. The club has officially pressed charges with the police.
"Before anyone gets the absolutely absurd idea that 1.FC Lok has anything to do with such repulsiveness, we would once again like to make the following clear: 1.FC Lokomotive Leipzig distances itself in the strongest possible terms from all forms of anti-Semitism and fascism. Our club is colourful.
READ MORE: 13 Lazio fans handed stadium bans for role in anti-Semitic Anne Frank stickers & slogans
"We have over 300 footballers with roots in over 20 different countries on this planet. We abhor discrimination, violence and racism in any form. These are core tenants of our club constitution and mission statement. Whoever cannot accept that has absolutely no place in our club. Period."
German-born Anne Frank was a diarist and jewish Holocaust victim who received posthumous fame for the journal she kept while in hiding from the Nazis during World War II.
Last week, 13 Lazio fans were handed stadiums bans after being identified as responsible for posting stickers with the image of her in a jersey of arch rivals Roma along with anti-Semitic slogans at Stadio Olympico, which the two clubs share.
Italian league authorities subsequently ruled that extracts from Anne Frank's diary would be read before every Serie A game in the next round of fixtures, and Lazio announced that their players would wear t-shirts bearing her image in the warm-up before their away match at Bologna.
However, members of Lazio ultras group 'Irriducibili' boycotted the match, and some fans who did attend the game defiantly sang "Me ne frego" during the readings, which translates as "I don't give a damn" – a song that became a popular slogan in fascist Italy under Benito Mussolini.
You can share this story on social media: