13 Lazio fans handed stadium bans for role in anti-Semitic Anne Frank stickers & slogans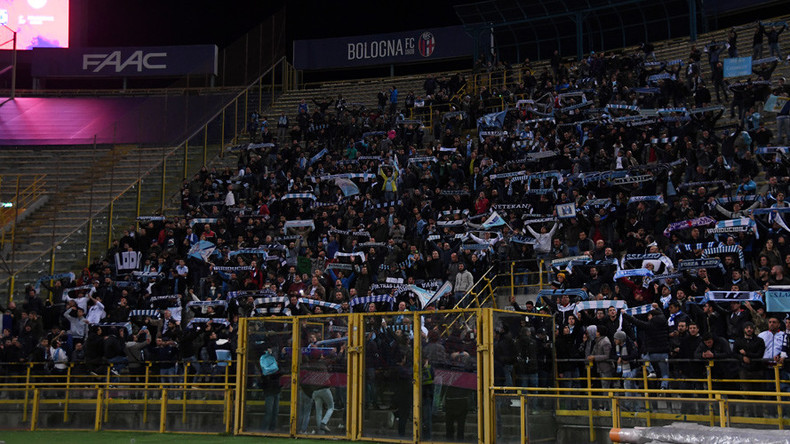 Thirteen Lazio fans have been identified and banned for their role in posting stickers depicting Jewish Holocaust victim Anne Frank in a jersey of arch rivals Roma along with anti-Semitic slogans.
The fans were charged with "committing acts of racial discrimination via the use of anti-Semitic material, offensive for its content and ability to incite racial hatred," resulting in bans from sporting events ranging from five to eight years from DASPO, which deals with counteracting violence in Italian sport, Gazzetta dello Sport reported.
Eleven of the group have been slapped with five-year bans from sporting events; one more also received a five-year ban, subject to a later parole hearing upon serving an existing ban. All are aged between 17 and 30.
A further fan received an eight-year banning order, subject to a parole hearing. The sentence was more severe due to three previous banning orders prior to the incident in question.
The stickers were left during a Serie A game against Cagliari in the southern curva (end) normally reserved for Roma fans at Stadio Olympico, the ground they share with Lazio in the Italian capital. Lazio's usual northern curva had been closed due to racist chanting at a prior game.
Six of the 13 are members of the Lazio ultras group 'Irriducibili,' who boycotted a game with Bologna on Wednesday due to actions taken in response to the behavior, which they called a "media theater," stating "Lazio and its curva comes first."
In reaction to the stickers, extracts from Anne Frank's diary were read before Italian matches on Wednesday and Lazio players also wore T-shirts bearing the image of Anne Frank before their warm-up.
READ MORE: Italian football fans in anti-Semitic storm over Holocaust victim stickers
However, some Lazio ultras chose to defiantly sing fascist Italian song "Me ne frego," which translates as "I don't give a damn," as the passages were read out at Dall'Ara Stadium.